Pros and Cons of Living in Front of a Lake
Many people dream of owning a lakefront home, living in their own private getaway, complete with wide open vistas and few neighbors. Cookouts in the back yard, feeding the ducks and watching the sunrise slowly clear the early morning mist all sound like an idyllic way to live. But that type of lifestyle comes at a price, for nothing is ever quite as good as it seems.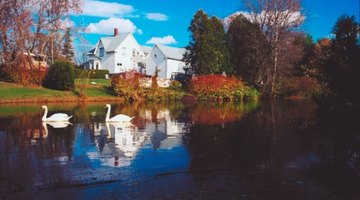 Views
Water views can be spectacular in any type of weather and at any time of day, and that is a primary reason why waterfront homes sell for top dollar. However, all that water and the lack of trees means that there are no natural windbreakers on one side of the house, and a lakefront home might suffer significant wind and water damage in a storm. In addition, living on water can incur a higher risk of flooding.
Water Sports
The lake can be a great place for family fun; swimming and fishing are usually both possible. If the lake is large enough and there are no restrictions against it, water skiing can also be enjoyed. Unfortunately, the engines can be very loud and the boats may come close to the shore, which can be annoying when the noise continues for an extended period of time.
Privacy
If you live on a lake, you may spend long hours looking at the water without seeing anyone. No cars will be driving by to obscure your view, and you have fewer neighbors able to watch what you do, so you can enjoy your cookouts in peace. However, since they can't watch you, they also can't watch your house, and those doors and windows facing the lake are prime targets for thieves.
Wildlife
Feeding the birds and ducks can be fun, but depending on the geographical location of the property, there can be many hidden dangers in and around the lake. Water moccasins are one type of poisonous snake that thrive in southern lakes, and it is not uncommon to find alligators in the lakes of southern states. The water will attract mammals to the area, and some may aggressively defend their territory against human interlopers.
References
Writer Bio
Pat O'Connor is the broker/owner of The Veritas Real Estate Group in Coral Springs, Fla. She holds a M.A. in psychology from the University of South Carolina. O'Connor has been writing real estate and loan origination textbooks, as well as developing online courses, since 2005. Her latest publication is the kindle ebook, "The SAFE Mortgage Loan Originator National Exam Study Guide."
Photo Credits
Jupiterimages/Photos.com/Getty Images
Jupiterimages/Photos.com/Getty Images
More Articles