Ideas for Sinks in the Basement With No Floor Drain
If you are planning to add a laundry room or bar to your basement, you may be wondering how to install a sink, especially if there is no floor drain. There are ways to install drains in a basement that has no sink and a solid slab floor. They involve a little know-how and some do-it-yourself ingenuity, but it is possible.
Above Floor Pumps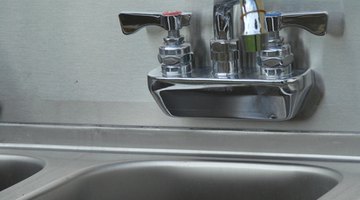 One idea is to install an above-ground water pump for your drainage system. This is a small pump unit that sits on the floor of the basement. It pumps water up an into your existing drainage pipes. The units are small, less than two cubic feet, but they are powerful enough to handle waste water from a laundry sink. To install them, simple place the unit on the floor next to the laundry room sink. Connect the sink's discharge pipe to the pump's intake, and then connect the outlet from the pump to your waste water pipe using a t-joint. The pump is then connected to an outlet and operated as needed.
Exterior Drain Line
A better option if your basement has access to exterior drain pipes below the floor, is to route a drain pipe from the laundry room sink to the exterior drain pipe. This involves removing a section of wall, which is only possible in a walk-out basement. The next step is to attach the new drain line to your exterior waste water pipe line. A t-joint will provide the connection. The drain must be connected to a waste water line, so if you do not have the ability to access this line, this option will not work.
Sump Pump
Another option is to install an exterior sump or storage tank under the basement with an ejector pump. This pump will direct waste water up to your existing drain lines, and it is designed to handle solid waste as well. This option is suitable especially if you plan on installing a basement bathroom. The sump and sewage ejector will handle solid waste removal from the bathroom as well as from your sink. The sink drain will be routed to the sump storage tank via a drain pipe. This will also be routed to the exterior of the home where the sump is located. Therefore you must have access to the exterior of the home from the basement to use this method.
References
Writer Bio
Steve Smith has published articles on a wide range of topics including cars, travel, lifestyle, business, golf, weddings and careers. His articles, features and news stories have appeared in newspapers, consumer magazines and on various websites. Smith holds a Bachelor of Arts in English and journalism from University of New Hampshire Durham.
Photo Credits
More Articles