Uses of Mineral Seal Oil
Mineral seal oil consists of distillates, hydrotreated middle and petroleum. It is frequently used as a solvent for a variety of uses. You may find it in ink, cleaners, paints, adhesives, pesticides, car windshield washer and aerosol products such as air fresheners. It can even be found in beauty products for hair, skin, make-up and perfume.
Paint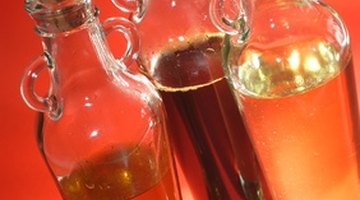 In paints and coatings, solvents such as mineral seal oil dissolve or disperse different elements -- such as pigment and resin -- to improve the paint's texture.
Cleaning Solvent
Solvents such as mineral seal oil are used for cleaning many kinds of surfaces including counters, tubs, toilets and showers. Solvents are effective cleaners because they soften stains and dissolve unwanted material by dispersing the stain ingredients.
Car Maintenance
A very low viscosity mineral seal oil may be used as car wash drying agents. Windshield washer fluid contains solvents which dissolve debris and dirt and wipe them away. During the winter months, solvents work to keep windshield wiper fluid from freezing because it acts to lower the temperature at which the mixture would normally freeze.
Pesticide and Illuminant
Mineral seal oil is also used in pesticides, insecticides and herbicides due to its toxins. Mineral seal oil contains hazardous combustion elements such as carbon dioxide, smoke, carbon monoxide, fumes, oxides of sulfur and/or nitrogen and unburned hydrocarbons. This type of oil may not ignite easily but it does burn and give off light, acting as an illuminant. It can release vapors when heated over the flash point temperature and could ignite when exposed to an ignition source. Heated vapor in enclosed spaces may ignite with explosive force.
References
Resources
Writer Bio
Dawn Sutton began her writing career in 2004 with an article on Internet counseling for a psychology journal. She writes numerous Internet articles on a variety of subjects including health, travel, education, crafts and much more. Sutton has published the books "The Manual" and "God's Girl" and numerous feature film scripts. She has a master's degree in social work from the University of Toronto.
Photo Credits
three sorts of oil image by Tomo Jesenicnik from Fotolia.com
More Articles