The Best Way to Attach Runners on Wood Privacy Fence Posts
You know you can save money by building your own fence. You have a good idea of how to set your fence posts, measure for materials and cut the pieces, but you're still afraid to start. Knowing how best to attach your runners is key to a quality fence. There is no one best way, so you will need to choose among the many good methods the way that best fits your application.
Using Fence Brackets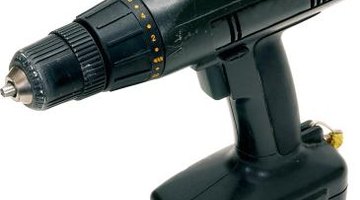 There are three types of bracket for attaching fence runners, also known as rails or stringers. Brackets are an added expense and can take longer, but are arguably stronger than just screws or nails.
Face mount brackets are screwed or nailed to the front of your wooden post. This bracket is an open faced U-shaped channel that will accept 2-by-4 lumber. Join two runners in the center of each post. Runners are attached with screws through the top and bottom of the brackets.
Corner brackets attach to the side of the post and the back of the rail with nails or screws. They are generally used to reinforce rails that are toe nailed or screwed into the face of the post.
A third variety is the rail hanger, or joist hanger, that is used to hang runners between posts. This is not typically used for privacy fences, as it leaves the post exposed.
Screwing Directly to the Post
Rails can be directly screwed to the post using treated deck screws. This is done with a rechargeable cordless drill or impact driver. It saves time, but is still slightly slower and more expensive than nails.
Running 3-inch screws in at an angle through the 2-by-4 runner into the post is the most common method. It is called toe nailing, after a technique used with nails. This method is strong enough to outlast most fence panels if done correctly.
Screwing a small 2-by-4 cleat, or horizontal brace, to the the post directly underneath the runner can provide added support. Rails are then toe nailed, or attached with corner brackets to the post.
Nailing Directly to the Post
Most mass produced fence panels are nailed with automatic nailers. Fence rails can be attached to the post with nails.
Hand nailing is time consuming and requires considerable practice. It is the strongest and most effective way to get the most out of a nail. You can use any of the fastening methods outlined above with nails instead of screws.
Pneumatic nailers, or air nailers—frequently called nail guns—are driven by compressed air. They will make quick work out of any fence installation. While it is the cheapest and fastest way, it is arguably the weakest of the three main categories of fence joining. Without threads the nails tend to work their way loose more quickly. They are also not as effective in pulling pieces tight.
References
Resources
Writer Bio
Mark Morris started writing professionally in 1995. He has published a novel and stage plays with SEEDS studio. Morris specializes in many topics and has 15 years of professional carpentry experience. He is a voice, acting and film teacher. He also teaches stage craft and lectures on playwriting for Oklahoma Christian University.
Photo Credits
Zedcor Wholly Owned/PhotoObjects.net/Getty Images
More Articles