Using Railroad Ties for Landscaping
When you want to add rustic charm to your landscape, reclaimed wood and timber is definitely the way to go, which is why railroad ties often are used to give a garden or yard a rugged character. Their versatility is another point in their favor because they can be used in a garden, on a slope or even in a front yard.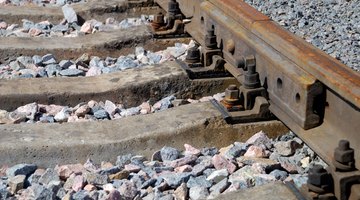 Landscaping with railroad ties includes some health dangers, however. So consider their use and placement carefully before installing them in your yard.
Make a Border
Railroad ties can be effective edging or borders for various landscaping projects. Their flat surfaces make them simple to place flush with the surfaces they edge, which means you can mow around them more easily than may be possible with other types of edging. Because of their rustic appearance, railroad ties are used to edge many loose-gravel paths, patios and driveways. They also work as borders around trees and flowerbeds, highlighting them in the landscape. You don't have to use the ties whole; cut them to make smaller pieces for use as borders around plantings.
Finish a Walkway
Instead of stepping stones, railroad ties can be used in a walkway. Pair the ties with a simple soil path, or add them to a gravel walkway to make it more comfortable to walk. Cut the ties into about 2-foot-long pieces, and sink them into the ground so they are flush with the rest of the path. If part of your landscape features a shallow slope, then railroad ties can serve as steps on the incline. Choose solid railroad ties with little or no damage to ensure they are sturdy, and cut them into about 4-foot-long pieces. Set them in the slope on a sand base that is roughly 1 to 2 inches thick, and aim for 6 inches of height between the railroad tie steps. Stacking two ties or using bricks laid lengthwise beneath the ties will help you make the steps a particular height.
Create Accessories
Railroad ties can be used to create unexpected accessories for your landscape. Stake several ties into the ground to create a rugged garden fence that separates flowerbeds, or place two ties upright in the ground to serve as a mailbox holder. An option is to add stenciled or metal numbers to the ties and use them as a house number sign. If you want to illuminate a walkway for after dark, place the ties upright along a garden path, and add lighting fixtures to their tops.
Heed Warnings
Although railroad ties have many landscaping uses, their wood usually has been treated with creosote, a preservative used to make them moisture- and insect-resistant, and creosote is toxic to people and animals. By placing the ties in or on soil, you run the risk of contaminating your landscape, posing a threat to children and animals that play near the ties. If you choose to use railroad ties in your yard, never place them around a vegetable garden or other edible plants, where the creosote may attach to plant roots. The creosote from railroad ties also can affect ground water, including well water. So don't landscape with them if you live in an extremely wet area, a location with shallow ground water or a site with well water.
References
Writer Bio
Based in New York City, Jennifer Blair has been covering all things home and garden since 2001. Her writing has appeared on BobVila.com, World Lifestyle, and House Logic. Blair holds a Bachelor of Arts in Writing Seminars from the Johns Hopkins University in Baltimore, Maryland.
Photo Credits
Oleg Saenko/Hemera/Getty Images
Oleg Saenko/Hemera/Getty Images
More Articles