Estimating the Cost of Building a Two-Car Garage
A two-car garage needs approximately 400 square feet of floor space in order to feasibly fit two cars in it with some room for maneuverability. This also accounts for work space along the garage's periphery walls, proper ventilation and ceiling storage. Contractors.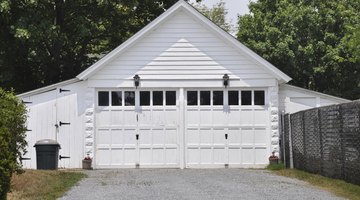 Industry estimates
com also notes that most garage, whether one-car or two-car, tend to run from $30 to $50 a square foot, which would mean that the average price to build a standard two-car garage would cost between $12,000 and $20,000.
Materials
Naturally, the cost of building a two-car garage varies depending on the materials used and amenities included. One of the easiest ways to cut costs is to build a garage without any windows. It is also cheaper if you provide the building materials yourself; that way you only have to pay a professional for his labor, not for the price of materials. The standard materials you'll need to supply are roofing, brackets, nails, concrete, lumber and siding. You can also ask your contractor to provide you with an exact list of the materials needed. These standard materials will cost between $3,000 and $5,000, but you can avoid paying the additional markup that most contractors will charge for obtaining the materials themselves.
Additional Costs
Aside from labor and materials, homeowners usually have to purchase a permit that allows them to build the garage and hire a building inspector to evaluate the site. Most city permits to build a two-car garage cost between $200 and $300 if the primary residence is already built. One must also take into consideration whether additional work will need to be done to the primary residence to allow the garage to be built. Many homeowners who decide to save themselves some money purchase layout plans that can cost $20 or more. One more important thing to consider is that many people believe they can cut the cost of building a two-car garage by hiring unlicensed contractors. Though they can be a cheaper form of labor, it is extremely risky to hire unlicensed contractors, who may or may not do the job well or within the appropriate amount of time. It is also difficult to sue an unlicensed contractor who does not meet your expectations. To find a legitimate contractor visit the National Association of Home Builders (NAHB) at NAHB.org or the National Association of the Remodeling Industry (NARI) at NARI.org to obtain a referral.
References
Resources
Writer Bio
Nellie Day is a freelance writer based out of Hermosa Beach, Calif. Her work can regularly be seen on newsstands, where her specialties include weddings, real estate, food and wine, pets, electronics, architecture and design, business and travel. Day earned a master's degree in broadcast journalism from the University of Southern California.
Photo Credits
USGirl/iStock/Getty Images
USGirl/iStock/Getty Images
More Articles