DIY Prefab Rooms
Homeowners who've outgrown their homes traditionally have had two choices: add on or trade up. A third option exists if you plan to stay put but lack either the budget or the equity for an addition -- a Do-It-Yourself prefab room. Factory-constructed kits come in all shapes and sizes, from very basic shedlike structures to fully powered and heated professional, recreational and guest spaces.
History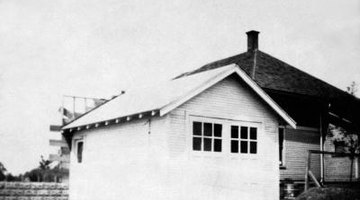 Prefabricated rooms have their roots in prefabricated home design and construction. H. Manning is credited with having designed the first prefabricated cottage during the mid-1800s to serve as a home for his son, who was relocating to Australia from London. Sears, Roebuck and Company ran with the idea. By 1940, according to Housing.com, Sears had sold more than 100,000 prefabricated homes via catalog. Frank Lloyd Wright, "Good Houskeeping" magazine, George Fred Keck, Buckminster Fuller and Monstanto are a few of the famous names that have made their marks on the prefab industry.
More recently, the tragedy of Hurricane Katrina spurred the development of tiny prefab homes as alternatives to FEMA trailers. The idea took off. Consumers began constructing "Katrina Cottages" from kits sold by a variety of vendors, including Lowes, for use as guest quarters, home offices and other spaces that people traditionally have constructed as additions to their homes. Current prefab room kits can be upgraded to provide primary housing, but they're designed for use as stand-alone rooms that expand a primary residence's living space.
The Prefab Room
A very basic prefab room you'll use primarily for storage may consist of just walls and a roof. Most prefab rooms have floors, however. Such features as windows, doors and insulation are extras. Additional extras might include a porch, exterior stairs, a skylight, or an electrical box that makes it easier to run power to your room later. Some manufacturers offer high-end options such as kitchens and bathrooms. Basic exterior siding is generally included, and you'll probably have several upgrades to choose from.
The Foundation
Prefab room manufacturers offer a variety of foundation choices. You can construct your room on a cement slab, wood platform, cinder blocks, concrete footings, or spikes that extend into the ground but don't require footings. The type of foundation that's best for your room depends on several factors: the size of the structure, its use, the slope and drainage of your yard, and local codes and regulations. An error in constructing a foundation can make it difficult, if not impossible, to assemble your room correctly, so you might need to hire a contractor to pour or install the foundation for you.
Types of Kits
You can purchase a kit that's precut or preassembled. Precut kits have all the materials cut to size, plus fasteners, hardware and factory-built extras you purchase, such as doors and windows. Assembly of a precut kit is a major do-it-yourself project. Preassembled kits come with some of the work already done. Walls, floors and trusses, for example, need only be attached with included fasteners and hardware. Preassembled kits are more expensive, but they're faster and easier to assemble. You'll likely receive full print and video instructions with either type of kit.
Benefits of a Prefab room
Generally speaking, a prefab room is substantially less expensive than an addition to an existing home. The cost depends on the size and construction of the room, installation of optional systems such as heating, cooling and plumbing, the foundation, and add-ons such as doors and windows. In addition, the fact that it's a stand-alone structure means that construction causes little or no disruption to your household while the work is in progress.
Special Considerations
Contact your local zoning officer and building inspector to find out what the requirements are regarding setbacks, permits and other factors that might determine what type of room you can have and the extras you can include. For example, some jurisdictions consider prefab rooms with electricity and plumbing to be habitable spaces that must meet local building codes. You also may have to meet U.S. Department of Housing and Urban Development requirements for manufactured homes, if your prefab room is habitable. These codes can apply to site preparation and assembly as well as the actual structure. In addition, you'll likely need board approval if you live in a community governed by a homeowners association.
References
Resources
Writer Bio
Daria Kelly Uhlig began writing professionally for websites in 2008. She is a licensed real-estate agent who specializes in resort real estate rentals in Ocean City, Md. Her real estate, business and finance articles have appeared on a number of sites, including Motley Fool, The Nest and more. Uhlig holds an associate degree in communications from Centenary College.
Photo Credits
Thinkstock Images/Comstock/Getty Images
More Articles