How to Build a Small Room in the Crawl Space
If your crawl space is at least six feet deep, it's feasible to create a good storage space in that area. A small room built in a crawl space can be used to store tools, lawn equipment or canned foods. Creating storage in your crawl space might free up garage space taken up by stored items or it might allow you to do away with an unsightly storage building on your property.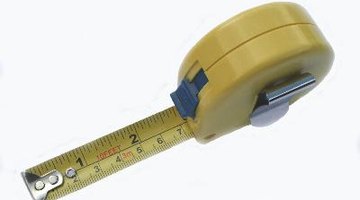 Step 1
Examine the space under your home. Your goal is to design a room that has walls no closer than six feet from a home's foundational footings. Digging close to the foundation can damage it. Make the room's length and width at least eight feet by eight feet, if possible. Try to make the room at least six feet in height.
Step 2
Dig and build steps from an exterior crawl space door that leads down to where your room will be. Since your crawl space is probably only three to five feet in depth, make the new storage room approximately six feet tall. Because most crawl space areas are not waterproofed like a basement, digging any deeper might allow water to seep into the space.
Step 3
Dig out all the dirt before beginning work on the room. Install wooden framework and pour a concrete slab floor. Roll out metal grid work to strengthen the concrete flooring. Build a room of cinder blocks and nail a ceiling in place by installing plywood to the floor joists. Use boards and plywood to cap around the top perimeter of the room. Watch for pipes and wiring that might be in the way. Make sure the room has wiring for an overhead light and wall switch.
Step 4
Brush waterproofing on the inside of the room. Install a wooden or metal door jamb and a lintel beam over the door and threshold. Attach a metal or wooden door with hinges. Install a deadbolt lock, if desired. Place metal shelves in the room to hold supplies, food items or tools. Avoid nailing directly into cinder blocks or concrete when installing shelving.
References
Tips
Avoid building a room in a crawl space area close to plumbing pipes and electrical wires, if possible. Avoid building under a bathroom or kitchen so that water from those areas won't leak into your crawl space room. Remember to wire the room for an electrical outlet if you plan to keep a refrigerator or upright freezer in it.
Warnings
When you brush on waterproofing and paint, avoid breathing the fumes for too long. If possible, wear a painter's mask as you work. Avoid breathing crawl space air that smells moldy, as mold is a known human health hazard.
Writer Bio
Judi Light Hopson is a national columnist for McClatchy Newspapers. She is founder of Hopson Global Education and Training and co-author of the college textbook, Burnout to Balance: EMS Stress. She holds a degree in psychology from East Tennessee State University, and has been a professional writer for 25 years.
Photo Credits
More Articles