Old Metal Shed Makeover Ideas
Old metal sheds can be an eyesore, particularly if they have fallen into disrepair. Instead of taking down an old shed or letting it rust in your yard, turn it into a functional, attractive space.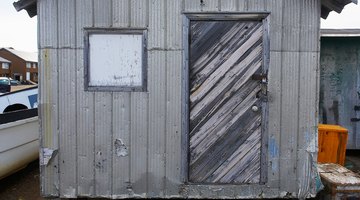 By giving it a makeover, you can improve the appearance of your yard and save the time and cost of dismantling the shed and disposing of the materials.
Art Studio
A shed is an ideal location for an outdoor art studio; you or your children can make art without worrying about making a mess in your home. With a thorough cleaning, the spartan interior of the shed will be a customizable space for canvas storage, easels, and simple supply shelves. As you remodel the space, work with the existing structure as much as possible to reduce your workload. If you don't have windows in the shed, add a latch to the outside to keep the door open while you work. Install simple metal shelves along one wall to hold art supplies. If you have a dirt floor, cover it with a ground cloth.
Paint
Paint is one of the easiest and fastest ways to make over a metal shed, particularly if you'd rather leave the interior as is. Cover the surface with a bonded primer, and use spray paint to give it a fresh pop of color. Depending on the look you want to create in your yard, you can choose a single color; go with a bold, saturated color for a big statement, or choose a pale, muted shade for a clean look. If you have artistic skills, use the shed as a blank canvas for a custom art piece; paint a mural, a garden scene, or turn it into a modern, free-flowing abstract work of art.
Cottage Playhouse
If you have children or friends with kids, turn a metal shed into a whimsical cottage playhouse. Paint the exterior and interior surfaces in a pale pastel color, and cut windows into the outside to shed light on the interior. You can screw on simple clear plastic to create windows. Add simple furniture and details like curtains and art on the walls to soften the look of the shed. Make the space safe for children by hammering down sharp edges, particularly around high-use places like the door. For an extra touch, add a simple white picket fence to create a miniature yard for your kids to make their own.
Garden Shed
Make the most of the rustic look of a metal shed by turning it into a garden shed. Plant a garden around the shed so the plants grow wildly around the edges. The rust and worn edges of the metal will make a pleasing contrast with the colors and soft shapes of the plants. To enhance the storybook feeling, create a winding path through the garden to the door of the shed. Use the shed as a storage area for garden tools.
References
Writer Bio
Elizabeth Smith has been a scientific and engineering writer since 2004. Her work has appeared in numerous journals, newspapers and corporate publications. A frequent traveler, she also has penned articles as a travel writer. Smith has a Bachelor of Arts in communications and writing from Michigan State University.
Photo Credits
Jupiterimages/Photos.com/Getty Images
Jupiterimages/Photos.com/Getty Images
More Articles