How to Remodel Your Mobile Home to Look Like a House
Because of the way that mobile homes are constructed, there are often telltale differences between a mobile and traditional home. By remodeling these differences, you can create a space that looks and feels just like the home you've always wanted.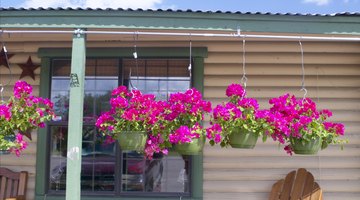 Because mobile homes don't offer as much latitude for moving walls and changing construction, focus remodeling on the cosmetic features that make the biggest impact.
Kitchen and Bathrooms
The kitchen and the bathroom areas offer an excellent starting point for changing the appearance of your mobile home. Simple cosmetic updates such as changing the hardware, faucets and lighting fixtures can do wonders. But more detailed updates like removing old countertops and installing granite-like materials really make a difference. Also consider replacing cabinet doors for more traditional doors, or considering painting cabinets to give them a facelift.
Interiors
It is often the small details that make all the difference in a mobile home. If your roof allows for it, add recessed lighting, which gives the illusion of a more traditional ceiling. Paint the walls to neutralize the appearance of any vinyl or paneling. Use curtains on windows and rugs on floors to soften the look of the room. But don't be afraid to tackle some of the bigger remodeling possibilities like replacing the floor with a wood or laminate that flows throughout all of the rooms. Add wainscoting or baseboards to walls and molding to ceiling corners. Remove anything that screams "mobile home" if possible, such as accordion doors. Replace these with folding doors or curtains.
Landscaping
There are several things that you can do to make a mobile home look more like a traditional house from the outside. Probably the biggest impact is in landscaping. By planting a few shrubs around the perimeter of the home and creating a garden area in front of one or both sides of the door, you create the illusion of a standard house. Plant a tree or two and put down some lawn to add even more of a feeling of home. If you are able to, create a walkway across your lawn or garden using cement or stepping stones and have it lead from your front door to the sidewalk or parking area.
Exterior
Beyond landscaping, there are several other remodeling options for creating the appearance. Paint the exterior of the home in a neutral color, such as cream, gray, white or beige, or consider replacing worn vinyl with a wood composite. Attach trim around the windows, if there is none, and paint the trim white. Add shutters to the outside of windows and paint them in a cheerful hue such as light blue, red or yellow. Add skirting to the base of the home if there is none. For a really big impact, add a pitched roof with gables that extend beyond the structure to create a patio area.
Writer Bio
Kristine Lofgren specializes in interior design, Web design, photography and gardening. She owns an interior design business in Salt Lake City. A graduate of Salt Lake Community College's interior design program, Lofgren is pursuing a Master of Arts in journalism from the University of Utah.
Photo Credits
Jupiterimages/Photos.com/Getty Images
Jupiterimages/Photos.com/Getty Images
More Articles