Exterior House Colors That Work With Stone
Stone facades are an investment and a design limitation. Your home can look richer and more substantial when it is all or partly covered in stone. It can also seem forbidding and dark. The paint colors for siding and trim will help to turn hard and unyielding into inviting and imaginative. Depending on the amount of stone, its color, your setting and your neighborhood, paint colors can subtly pick up the shades of the stone or highlight the stone as the main exterior design feature.
Light and Bright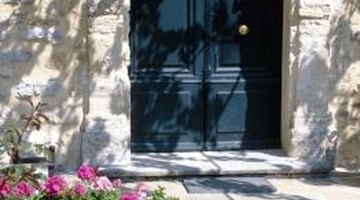 An all-stone façade can make your home seem like a fortress. To shift the feeling from battle-ready to sanctuary, add touches of warmth with paler accent shades in the stone colors and the focal point of a colorful entrance. Mute the vivid hues of bright colors like red for a door by choosing wine, burgundy or faded rose. Paint window frames and entry gables on a gray stone house in creams and dove grays. Let the rock pile of your house be the star, but organize and soften it with trim colors.
Harmonize the Heights
A house with a stone façade on the lower level and shingles on the upper levels needs contrasting color that is compatible, not jarring. The blues and grays of the stone foundation and first floor harmonize well with muted shades like teal for shingles, barn red for trim and more gray for a gabled roof. Or try something sunnier like butter-cream yellow for the upper stories with forest green trim. When the visible roof tiles or shingles coordinate with the gray or blue tones of the stone, they should be a lighter shade of gray to create an expansive impression rather than a compressed one.
Keep It Natural
Trim doesn't need to pop to emphasize the great bones of your stone home. Ditch the white, light, contrasting shades, and blend the house with the landscape by using natural colors. A stone house in tones of gray can be trimmed in sage green and soft gray paint. Color the outlines of roof lines and window frames as well as the front and garage doors in pale sage. Paint utilitarian features like downspouts and gutters to match the stone. Reddish or brown stone gets stucco and trim in desert sand or taupe. The exterior of the house becomes an elegant showcase for the stonework instead of a disjointed jigsaw of varying textures and trim.
Paint and Stone Fantasy
When the stone on your home's exterior is the trim, choose a paint color to create some character. Creamy vanilla paint and a red door can make a bungalow with stone entry arches look like a fairytale cottage. Adobe paint and a faded turquoise door turn stone trim on a small porch and around windows into a Southwest stage setting that combines well with a drought-tolerant front yard of ornamental grasses and cactus. Factor in the roof color when you mix hues of stone and paint for theatrical curb appeal.
References
Writer Bio
Benna Crawford has been a journalist and New York-based writer since 1997. Her work has appeared in USA Today, the San Francisco Chronicle, The New York Times, and in professional journals and trade publications. Crawford has a degree in theater, is a certified Prana Yoga instructor, and writes about fitness, performing and decorative arts, culture, sports, business and education .
Photo Credits
Goodshoot/Goodshoot/Getty Images
More Articles