Colors That Go With Old Red Brick for a Porch
A front porch is not always a wonder of painted wood or a postage-stamp-size concrete platform. Some porches sit on a brick floor, are supported by brick piers, or snug up against the brick facade of the house. The brick is a permanent fixture, so it dictates color choices for decorating the porch. Since old red brick ages into its own personality, use your brick's particular hues as inspiration for paint and landscaping.
Primary Color Calculations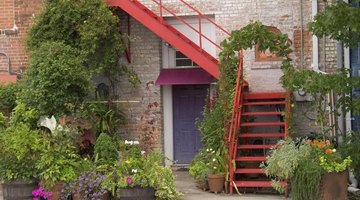 Examine the porch brick in all available light, including artificial lighting after dark. Look for its undertones, which tell you where to begin with color choices for paint, furniture and landscaping. Some brick has a lot -- or a little -- of yellow in it and appears more orange and "warm." Brick that is old, faded and pink appears warm, too. Other brick is deeper red, more muted and contains hints of blue. Flatter the brick facade to create color harmony. A sunny brick is inviting with colors from the warm palette: apricot, lemon or pineapple, strawberry and pumpkin. Cooler, blue-toned brick blends easily with forest-green, any shade of blue or blue-violet, cool gray and teal or deep turquoise.
Age Is a Beautiful Thing
Old brick is prized precisely because it is worn, faded and typically variegated in interesting ways. If your old brick porch tends toward pink, play with decor that stays in the soft zone. A trio of confectionery pastel rockers -- lemon, cotton-candy pink and mint -- will look like a party invitation against wood window frames painted the same sweet shoppe colors. Fill the porch with reclaimed wicker chairs, tables and love seats sprayed a pale gray. Gray -- or even greige, with a hint of tan -- is less harsh than blinding white against the old brick, but it's still a light enough neutral to accommodate a striped rug, a string of tiny colored paper lanterns under the eaves, and old terra-cotta pots bursting with petunias, impatiens, lobelia or daisies.
Brick Blues
Old brick may darken with age, mellowing into shades of charcoal-red, burgundy, purples and grays. Try a sharp and stylish counterpoint to the aging brick walls, piers or platforms with classic Adirondack chairs painted black or dark green. Use the same glossy paint on porch window frame trim or house shutters. Or play a little bit with red, white and blue with navy painted wood furniture, a white porch swing and white trim, and a navy-blue front door with a brass knocker. When the brick tends toward burgundy tones, paint the wood floor battleship gray, the porch furniture shiny burgundy and charcoal, the trim around the front door white, and the door itself charcoal or burgundy.
Don't Forget the Flora
Landscaping is part of the curb appeal porch palette, too, so plan seasonal blooms and colors around the pigments of the porch. Emphasize orangey brick with sunny flowers: hibiscus, tiger lilies, coneflowers and salvia with red/pink/orange blooms. Bluish brick glows with hyacinths, blue hydrangea, irises, lavender and purple gloxinia. Use your color theory for hanging porch planters, and don't forget winter landscaping. Design evergreen plants and long-lived ornamental grasses into the landscaping around the porch. The trimmed boxwood will be beautiful against the brick under a light dusting of snow. The grasses will still provide sculptural shapes to look at in the winter when they are dry.
References
Resources
Writer Bio
Benna Crawford has been a journalist and New York-based writer since 1997. Her work has appeared in USA Today, the San Francisco Chronicle, The New York Times, and in professional journals and trade publications. Crawford has a degree in theater, is a certified Prana Yoga instructor, and writes about fitness, performing and decorative arts, culture, sports, business and education .
Photo Credits
Thomas Brostrom/iStock/Getty Images
More Articles