What Paint Color Goes With a Red Couch?
A red couch will always make a statement in a room. The walls you place it against determine just how loud that statement will be. Wall color will absorb some of the energy of a red couch, or set it off as the unmistakable focal point of the room. Try an unexpected complementary -- red velvet sofa against faded chartreuse walls. Or keep it warm and flattering with blush pink Venetian stucco walls. Experiment to find the wall color that flatters your stand-out sofa.
Cool and Contemporary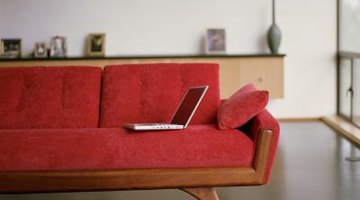 A single silver wall behind a red couch is ethereal. Adjoining walls could be silver and gray wallpaper or pewter, ebony or winter white paint. Deep medium blue or cobalt will add drama behind a red sofa. Muted or light blue will lower the heat -- toss a few soft blue pillows on the red sofa to connect it with the pale walls.
Welcoming and Warm
Colors drawn from nature, such as olive green, fern, moss and autumnal gold are an Arts and Crafts palette to surround a red sofa with a wood frame. Marigold, mustard and the bright yellow-orange of chili peppers and chrysanthemums add a spicy flavor to a room with a red couch. And red sofas look spectacular in red-walled rooms -- test the shades and intensities of the reds before painting, to be sure you're mixing cherries with cherries and apples with apples so the reds don't fight each other.
The Cool Spectrum
All shades of turquoise work with a red couch. Pale turquoise can be as delicate as the background of a Faberge egg with a ruby red sofa at its heart. Medium turquoise with a red-orange couch is a southwestern color scheme in Spanish colonial and adobe homes. Lime green is a fresh, fun spin on the classic opposites red and green. Lavender is an unexpected, bold choice that open the door to a sophisticated eclectic living room style.
Not-So-Tame Neutrals
Chestnut brown has enough red in it to pair comfortably with a red sofa in a more traditional room with lots of wood furniture and cream accents. Crisp white creates a spotless background for a sleek, angular red couch in a contemporary room. A gold and ivory backdrop is regal with a damask or brocade red couch. Red silk or linen upholstery sets a dramatic Asian theme in a room with charcoal or black lacquered walls.
References
Resources
Writer Bio
Lori Blair started writing for community newspapers in 2007. Her work has been published in "Arthur Enterprise News" and "Mount Forest Confederate." She holds an early childhood education diploma and is pursuing creative writing and writing-to-publish certificates from Conestoga College. She is director for a local horticultural society, member of a local Historical Society and the leader of a local photography society.
Photo Credits
Ryan McVay/Photodisc/Getty Images
More Articles