How to Paint a Room With Burgundy Leather Furniture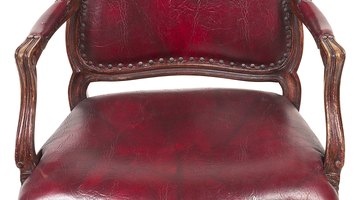 Burgundy leather furniture benefits from a wall color that balances its assertive tone. While burgundy minimizes the effects of a child's spilled grape juice, the deep cool-red dominates the room, making you wonder how to integrate it with other elements. Wall color seems like the best place to start, but when family life limits the amount of time you can spend with color swatches; a few principles simplify the paint selection process. Identify burgundy's undertone, which is its underlying hue bias, while considering complementary wall colors that feature color wheel opposites or analogous colors -- colors that neighbor burgundy on the color wheel.
Green or Green-Gray Walls
Falling opposite on the color wheel, warm-green provides maximum complementary contrast with burgundy leather furniture, making light olive or sage walls reliable color choices. Cool greens, such as mint-green also coordinate with burgundy, and green-grays provide a subtle option. When floors and walls feature warm green-gray, consider end tables with a painted, warm green-gray finish to add cohesion to the room. Pillows and curtains with a warm green-gray and burgundy pattern make a connection with the burgundy furniture, as do cherry frames on the warm green-gray wall. A large, green-gray ottoman completes the look.
Blue or Blue-Gray Walls
With its purplish undertone, burgundy pairs with blues to form cool-toned, analogous color schemes. Robin's egg blue highlights burgundy leather furniture, while greenish blue-gray walls provide a soothing alternative. An interesting option involves filtering taupe accents into a burgundy and greenish blue-gray room. Walls in greenish blue-gray blend with matching carpet and curtains to provide a unified backdrop. A taupe chair, lampshades and pillows supply accent color with a red undertone. If your busy schedule permits, paint the ceiling in taupe, while scattering a few accents in bright peacock-blue around the room.
Beige or Yellow-Ochre Walls
Create a warm, inviting enclave for your family by surrounding burgundy leather furniture with green-yellows, which establish another lively analogous color scheme with burgundy. This combination features more contrast than most analogous color schemes since the green undertones in beige or yellow-ochre are complementary to burgundy. Green-gold picture and photo frames blend with greenish beige walls, and a matching light fixture harmonizes. An accent chair and ottoman in darker, mustard leather works as do sofa pillows and curtains in a beige and burgundy pattern. On dark wood flooring, a large, patterned rug in beige and burgundy extends the room's color scheme.
Warm-Gray or Taupe Walls
Taupe and warm-gray have red undertones that correspond with burgundy leather furniture. Paired with olive or sage-green, taupe provides a neutral, complementary backdrop for burgundy furniture as does warm-gray. Another burgundy-enhancing option involves medium warm-gray walls with aqua accents. Warm-gray walls blend well with curtains in a geometrical, aqua and warm-gray pattern. Lampshades and pillows in aqua create harmony, as does an aqua leather ottoman. Opt for pewter frames and light fixtures, which blend with warm-gray walls, while a painted, aqua coffee table provides an unexpected touch.
References
Writer Bio
Based in Franklin, Tenn., Anya Deason has more than 15 years of decor-related experience, assisting leading interior designers and owning a custom frame shop. While working at Lyzon Gallery in 1999, she wrote descriptions of artwork for Sotheby's online auctions. Deason holds a Bachelor of Science from Tennessee Technological University.
Photo Credits
Hemera Technologies/PhotoObjects.net/Getty Images
Hemera Technologies/PhotoObjects.net/Getty Images
More Articles