What is the Best Wall Color for a Wheat Colored Sofa?
If you've just purchased a wheat-colored sofa, you may want to add a pop of color to your room by painting a wall. There are several hues that go well with a sofa of this color, so it's best to choose a shade that fits your decorative tastes and looks great with other furniture in the room.
Red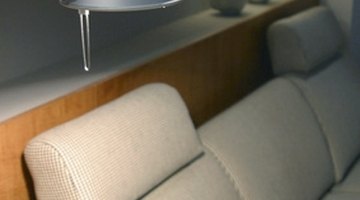 Red makes any space brighter and makes anyone who enters the room feel a little more energetic. If you have a wheat-colored sofa, a striking red -- like candy apple red -- will definitely add contrast and make the room more appealing, especially if you have other furniture in neutral shades, such as a nightstand or coffee table made from light-colored wood.
Aubergine
Aubergine, a rich eggplant color, is a wonderful complement to a tan or wheat sofa and is ideal if you want to add color to the room that is attention-getting but not too daring. Aubergine also looks great with light- or medium-colored wood and metallic colors, so bronze throw pillows or lamps in a light-colored wood are ideal for this room.
Green
Green is the color of growth and newness, making it a perfect decor choice for remodeling a room with a wheat-colored couch. You can paint the accent wall of the room a pistachio green for a subtle color addition or use a kelly or hunter green for a more outgoing look.
References
Writer Bio
Tamiya King has been writing for over a decade, particularly in the areas of poetry and short stories. She also has extensive experience writing SEO and alternative health articles, and has written published interviews and other pieces for the "Atlanta Tribune" and Jolt Marketing. She possesses a Bachelor of Arts in English and is currently pursuing higher education to become a creative writing professor.
Photo Credits
More Articles