Color Help for a Room With a Red Carpet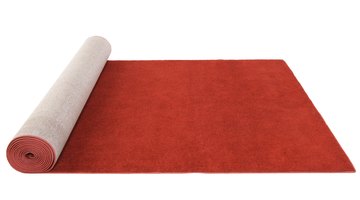 When you're trying to decorate around a red carpet, you've got two primary choices in terms of direction: bold and dramatic or warm and cozy. Red carpet works great with Italian and Asian-inspired themes. It can be made more masculine with the addition of dark woods, wools and plaids, or more feminine with pink silks and soft mauves.
Bold
Play up your red carpet with equally dramatic color schemes, like teal, or black and white. Bring in bold patterns like stripes and checkerboards and go for a modern, edgy look. Select chrome accessories and simple furniture with clean lines. Add a splash of color with multicolored geometric design pillows or bedding, or add a modernistic over-sized print with plenty of red in it.
Monochromatic
Add more reds to your red carpet room. Think maroon drapes, scarlet bedding or a red leather couch. Use lamps with amber shades and Tuscan-inspired accessories like red enamel bookends and candle holders. Bring in different textures to help differentiate various decor elements -- for example, red linen drapes, red damask throw pillows and red wool throws.
Rich and Warm
Use the red carpet as a basis for building a warm, inviting, cozy environment. Bring in shades of gold, taupe or chocolate on the walls and accessorize with antique gold finishes. Look for ornate, heavy, gilded mirrors, vintage copper tea kettles and stoneware pottery filled with reeds to use as decor. Hang tapestries or abstract fiber art to add to the unique and vibrant design.
Fun
If you're using your red carpet space as a game room, go wild with colors. This is a great opportunity for family members to display their favorite photos, collectibles and mementos with no care for design or flow. Include your favorite oak rocking chair right next to a neon-yellow beanbag. String multicolored twinkle lights in the windows. You'll create a fun place where everyone feels comfortable.
Masculine
Go for a look reminiscent of a smoking room or library and introduce dark woods, leathers and plaids. Add dark trim and heavy wooden furniture and bookcases. Include framed hunting-lodge style prints of ducks and mountain streams. Find a vintage distressed wing-back chair with a footstool and accessorize with large silk ferns and a vintage floor-stand globe to finish off the effect.
Feminine
Be daring with a throwback boudoir look complete with feather-trimmed red lamp shades, draped red tulle, heavy velvet curtains and silk bedding. Victorian furniture and framed cameo portraits can help you pull the look together. If you want something a little less daring, soften the room with the addition of whitewashed furniture, rose-colored accessories and floral prints.
References
Writer Bio
Lisa McQuerrey has been a business writer since 1987. In 1994, she launched a full-service marketing and communications firm. McQuerrey's work has garnered awards from the U.S. Small Business Administration, the International Association of Business Communicators and the Associated Press. She is also the author of several nonfiction trade publications, and, in 2012, had her first young-adult novel published by Glass Page Books.
Photo Credits
Thomas Northcut/Digital Vision/Getty Images
Thomas Northcut/Digital Vision/Getty Images
More Articles