What Color Wall Goes With Tan Furniture?
Furniture with tan upholstery is a wise choice for homeowners because this neutral shade works well with many different colors of wall paint. Whether you want to use warm or cool colors on the wall or opt for a minimalistic look, the tan furniture is a versatile way to increase your decor options.
Minimalistic Style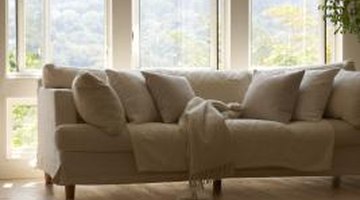 Choose beige, white and taupe wall colors if you want to create a minimalistic, modern style in the room. White shades give a clean, contemporary feel to the space. The taupe and beige add a monochromatic appearance to the room that minimizes distractions from the sleek lines in contemporary decor.
Outdoorsy Ambiance
Using earth tones on the walls enhances an outdoorsy look in the room. Brown, sage green, a rich apricot and a dark honey yellow are all colors that occur naturally outdoors. Turquoise, brick and terracotta are other wise choices. This gives a natural look to your furnishings, particularly if you use floral or outdoor scenes on your curtain fabrics and wall art.
Cool Colors
Select lavender, green or any shade with a blue cast in it for the walls to create a cool, relaxing atmosphere. Make it a goal to use only three or four different main and accent colors in the room. Tan is a main color because of the furniture; therefore, adding two or three other cool colors helps to prevent the room from seeming chaotic and distracting.
Lighting Considerations
Darker wall colors minimize the size of the room, helping the homeowner create intimacy. Light wall colors brighten a room, making it look more spacious. The type of lighting in the room with the tan furniture helps to determine the wall color you choose. Incandescent lighting adds warmth to wall colors, thus intensifying the look. Regular fluorescent lights enhance cool tones. Halogen light sources distort walls colors less than other types.
References
Writer Bio
Chelsea Fitzgerald covers topics related to family, health, green living and travel. Before her writing career, she worked in the medical field for 21 years. Fitzgerald studied education at the University of Arkansas and University of Memphis.
Photo Credits
ULTRA F/Photodisc/Getty Images
More Articles