Wall Colors to Complement Berry
The intense shade of red or "berry" is a pretty addition to the living room, bathroom, dining room or kitchen in your home if you prefer colors in the red family that are the right mixture of bright and classy. Berry furniture will stand out against a variety of wall colors, whether you want to paint the wall a modest color so the red hue will stand out, or pair berry-colored accents will bold jewel tones.
White or Light Gray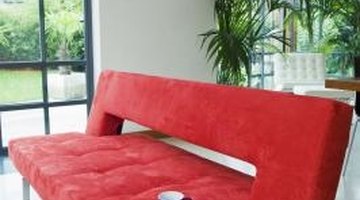 Muted shades like white or gray will allow the berry-colored furniture in the room to shine. For instance, a living room with slate gray walls is appropriate for a modern-style red sofa, and classic white walls will complement the red chaise in the bedroom appropriately. Understated colors on the wall draw more attention to the intensity of the red, without overpowering the eye, and allow the furniture to become the warmest and most welcoming features in the room.
Lilac
The soft color of lilac coupled with bolder shades of berry adds feminine flair to the living room or bedroom. Light purple walls in a room where the bed is made of wood that is painted a shade of berry or lilac wall paint added to a living room with a berry-red love seat combines warm and cool color, creating a decorative balance in the room. Lilac and berry are visually appealing in the kitchen as well; if you have red kitchen appliances, painting the kitchen walls lilac will add royal refinement to the area while showcasing the quality mixer, blender or microwave.
Pagoda Red
Pagoda red is a muted shade that is a mixture of orange and blue. These two shades (blue and orange) are color wheel opposites, which provides the ideal hue contrast. And since Pagoda is a lighter and less intense shade than berry, walls in this color will give your bathroom a monochromatic theme. A cherry red ottoman against a pagoda red accent wall has a warm and inviting effect, and adds just the right pop of color to a bathroom that is composed of mostly neutrals like brown, tan or black.
Lime Green
Red and green are directly across from each other on the color wheel and are pleasing to the eye when they appear in a room together. The intense hue of lime green coupled with berry red is a bright mixture of color but isn't too straining on the eye since green, the cooler shade, is the more vivid hue of the two. Lime green is best for an accent wall since all four walls in this shade can give the room an unappealing glare. Adding this pop of color to the guest room, such as a lime green wall with a set of berry red armchairs resting against it, gives a modern interpretation to classic furniture.
Chocolate Brown
References
Writer Bio
Tamiya King has been writing for over a decade, particularly in the areas of poetry and short stories. She also has extensive experience writing SEO and alternative health articles, and has written published interviews and other pieces for the "Atlanta Tribune" and Jolt Marketing. She possesses a Bachelor of Arts in English and is currently pursuing higher education to become a creative writing professor.
Photo Credits
Jupiterimages/Comstock/Getty Images
More Articles