How to Choose Paint Color for an Asian Themed Room
Asian themed decorating requires paint colors that are both serene and dramatic. Delicate tea green walls complement Japanese woodblock prints, while Chinese red and black lacquer furniture are set off by pale bamboo paint. Walls painted the color of cherry blossoms lend an updated look to oriental style decor. Incorporating elements of feng shui means being aware that colors carry meanings and can affect your state of mind, according to Chinese lore.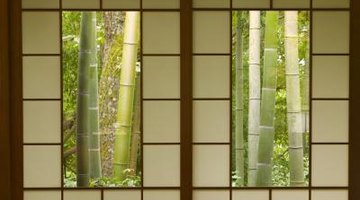 Step 1
Focus on simplicity and minimalism; avoid clutter. This does not mean you have to stick to neutral shades of paint, though. First, consider all your decorating elements. If your prints, wall decor and furnishings are bold and multi-colored, a calming pale shade may work best on your walls. On the other hand, if your decor is bold and dramatic you may find a vibrant shade will showcase your furnishings. Consider an accent wall to provide a splash of color, even if your other walls are understated.
Step 2
Think of green tea, bamboo shoots or the palest of jade. While dark greens are rarely used in Asian decorating except for jade accents, pale green is a color of tranquility and regeneration, ideal for bedroom or study walls. As a general rule, green is a poor choice if there are red accents in your room, but it looks wonderful with pale pinks, black and deep brown.
Step 3
Bring in plenty of colorful prints, fabrics, flowers and plants if you want to keep your walls white. White is considered a cold color, according to feng shui principles, and results in too much negative energy if it is the primary color in a room.
Step 4
Introduce red and orange accents. These are lucky and welcoming colors. In China, painting the front door red is thought to welcome good fortune into the home. A dramatic red or persimmon orange accent wall can set off a black framed shoji screen or calligraphy woodcut prints. A guest bath painted red with black and gold accents will be stunning. Note that some reds can require many coats of paint to cover the surface; if choosing red paint ask the paint store whether it is a "low hide" color.
Step 5
Recognize that in most Asian cultures, dark blues are associated with mourning or funerals and are not typically used in home decor. Pale sky-blue shades can be used in moderation. However, pale blues, like pale greens, don't work well with red accents.
Step 6
Consider pinks and purples inspired by cherry blossoms, dusky plums or royal iris flowers. Plum and pink, like red, are considered lucky and sometimes regal colors. The right shade of plum or pink can work with almost any other color. This is also a calming color and a perfect choice for a bedroom. Most people match the wall color to a color in the comforter, but if you have a solid color comforter and match the wall paint to it, the effect loses impact.
Step 7
Make reds and blacks pop and bring warmth to any room with a muted gold or spring yellow, which will work with almost every other color. Yellows and gold signify health and longevity. If you have prints in pale and delicate colors, avoid using too strong a shade.
Resources
Tips
After choosing a paint color, buy a sample and paint it on the wall so you can see how it looks in different lights. This is particularly important with yellows as they can be deceiving on the paint swatches.
Writer Bio
Stevie Donald has been an online writer since 2004, producing articles for numerous websites and magazines. Her writing chops include three books on dog care and training, one of which won a prestigious national award in 2003. Donald has also been a painting contractor since 1979, painting interiors and exteriors.
Photo Credits
Art Wolfe/Digital Vision/Getty Images
More Articles