What Paint Colors Work Well With Maple Bedroom Furniture?
Maple is a hardwood that lends itself well to bedroom furniture because of its strength and durability. Finding the perfect color palette that coordinates with maple bedroom furniture consists of blending designer tips and personal preferences. The bedroom is a sanctuary, so choose paint colors that draw you in and keep you cozy.
Complementary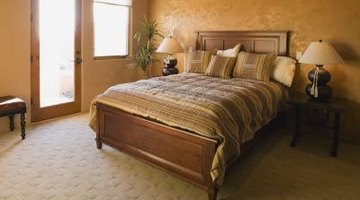 Maple wood exudes a natural, pale color, so there is an array of paint color choices for the walls. Maple is considered an orange-colored wood, so to complement it choose colors from the opposite end of the color wheel. Green is the complementary color for orange, but there are many different shades of green. If you want to make the room appear smaller and cozier, think along the lines of dark greens such as forest green. To make a smaller room appear larger, go with lighter shades, such as a willow or mint green. If you prefer a muted look, consider olive or avocado tints. You can also slide over on the color wheel and choose a bluish-green hue.
Monochromatic
While complementary colors invite furniture and walls to each stand on their own, some prefer a monochromatic look using different shades of the same color base. Oranges, reds and yellows offer a palette of color options blending with the maple wood. If primary colors excite you, a canary yellow or bold tangerine on the walls brighten the room. An array of pink tones on the walls brings a feminine touch to the room. Red paint on the walls is dramatic and sassy.
Neutral
Although there are thousands of available paint color choices, if you prefer a neutral feel to your bedroom, it is perfectly acceptable to stay in that arena. White, beige, ecru, cream, ivory or any other color in the neutral spectrum highlights the maple wood. Consider painting each wall a different shade of white or ivory for a more dramatic effect. Bring in hints of color to the room with accessories, such as linens and draperies. If choosing a neutral paint color for the walls, paint the ceiling in a soft color, such as pale yellow or a robin's egg blue.
Personal Preference
Decorator tips for choosing colors that coordinate with your maple bedroom furniture can steer you in the right direction. Decorating the bedroom should also include personal preferences, so that you feel comfortable in the room. If you lean toward purple, lavender or lilac colors, go with that on your walls. If blue tones make you feel peaceful, they also will complement maple wood. For a masculine feel, consider brown or burgundy tones. Experiment with your own likes and dislikes. Maple wood can stand up to most any color scheme.
References
Writer Bio
Cindy Phillips began writing feature articles in 2007 with her work appearing in several regional newspapers. With more than 30 years experience in the corporate arena, her business expertise includes all aspects of marketing and management. Phillips earned a Bachelor of Arts in English education from SUNY New Paltz.
Photo Credits
Jupiterimages/Comstock/Getty Images
More Articles