Color Ideas for Office or Computer Room
A home office, or computer room, is an important space, as it's a place to work and be efficient. The set up and design of the room should reflect that, and color, in particular, is an important element to mood and feeling. The environment in a computer room should be soothing, but also invigorating and stimulating for moods.
Pink and White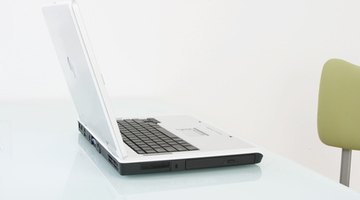 A soft pink office with white furniture and accessories is open, airy and feminine. Choose a soft pink for the walls, as a bright hue may be too distracting. White furniture, including a desk, a comfortable chair and bookshelves will complement the wall color. Accents of pink throughout the room, such as lamps and picture frames, finish off the look.
Green and Brown
Colors found in nature, such as brown and green, are suitable for home offices. In addition to painting the walls in a sage green color, adding large green plants in the office add more color to the room. Hints of brown, in the form of bamboo and teak, enhance the green in the room.
Neutrals
Neutral colors are suitable for just about any room, including an office or computer room. Neutral colors include beige, cream, soft yellow and taupe. Any combination of these colors create a relaxing palette. To add some visual interest to the room, use a combination of two neutrals, such as off-white and cream to paint vertical stripes on the walls.
White
An all-white office is unexpected and inviting. The white should not be stark white, as that can be overwhelming to the senses. The key to creating a white office is to add hints of color throughout the room. For example, cobalt blue desk accessories and picture frames add pops of color for some extra visual stimulation.
References
Writer Bio
Yvonne Van Damme is a freelance writer based in Seattle. She has been writing for several years with a focus on criminal justice and legal topics. In addition to various websites, she has been published in several academic journals. Van Damme holds a Bachelor of Arts in law, society and justice and sociology from the University of Washington.
Photo Credits
More Articles