What Colors Go With Whitewashed Kitchen Cabinets?
Whitewashed kitchen cabinets have a casual, informal look that works well with shabby chic décor, a farm-style look, a cottage-style kitchen and a variety of other décor choices. The distressed look of the whitewash complements many different color schemes. If your cabinets are whitewashed but have yellowed due to age or general wear and tear, you can clean them with a mixture of water and baking soda to return them to a bright, freshly painted look.
Blue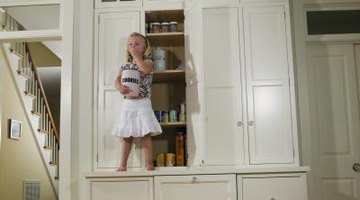 Whether you are looking for a classic navy and white decorative look for a nautical or Americana theme in your kitchen or want a more tropical turquoise for a ocean or beach look, the soft white of the distressed whitewashed cabinet will coordinate with any blue color, setting off the tones in the blue so that it stands out in contrast to the white. Blue touches can be added in the backsplash tiles, the countertops, and in creative use of window treatments.
Red
Bright red offsets the softness of whitewashed cabinets and makes the red color pop. You can use red throughout your kitchen by painting an accent wall a bright, cheery red or by hanging vintage tea towels that have elements of red throughout them. For a vintage look, you can place small red appliances on your countertop or a larger vintage-style red refrigerator or stove to serve as a focal piece.
Black
Elegant black provides a startling contrast to distressed white cabinetry that gives your kitchen an opulent, glamorous feel. You can add black touches by painting the cabinetry of a kitchen island black, using black granite or marble for your countertops, or installing a black and white checkerboard floor. Alternatively, if you don't want to commit to an expensive installation of black décor, you can use black accessories and fabric throughout your kitchen. A chandelier with black and white fabric shades will add both elegance and color, while items such as a black wall clock or black and white framed art give your space a personalized look.
Yellow
You can pair either bright or soft buttery yellows with white cabinets to achieve many different décor options in your kitchen. A sunny and lived-in farm-style kitchen looks warm and comfortable with a pairing of yellow walls and white cabinets. A beach-style room has a relaxed and open feel when the cabinets are paired with a soft yellow painted wood floor, white curtains and beach-style accessories.
References
Writer Bio
Based in the Pacific Northwest, Arin Bodden started writing professionally in 2003. Her writing has been featured in "Northwest Boulevard" and "Mermaids." She received the Huston Medal in English in 2005. Bodden has a Master of Arts in English from Eastern Washington University. She currently teaches English composition and technical writing at the university level.
Photo Credits
D. Anschutz/Digital Vision/Getty Images
More Articles