Floor Color That Goes With Hickory Cabinets
Natural hickory cabinets have a mottled coloring that ranges from milky to buttery to dark and chocolaty -- often within each door panel. Cabinets and flooring cover a large area, so they play a big role in the kitchen or bathroom's design, making the right color combination important for a good-looking finish.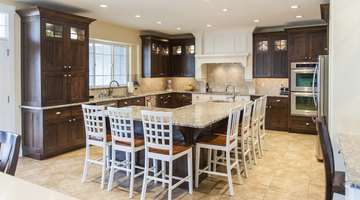 Monochromatic Hardwood Hues
For a rustic, wood-on-wood monochromatic design, let your cabinets take charge. Depending on the hickory's overall hue -- mainly dark or light -- choose wood flooring that's at least slightly different for definition. For example, pair generally light cabinets with a subtly colored wood floor, such as one in blond oak or golden pine. Blend mid-tone cabinets into cherry or maple flooring, or dark hickory into walnut floors.
A Neutral Palette
It's hard to go wrong with a broadly neutral palette, and you can always spice up the space with zingy accessories. Coordinate patchy dark-and-pale hickory cabinets with vinyl flooring in similar colors; a tone-on-tone vinyl mosaic, flagstone or geometric design stands out distinctively from heavily grained wood and helps keep the neutral setting from appearing bland or just too ordinary.
Warming Up to Ceramic
A room layered with warm-colored surfaces is more than attractive -- it's energizing, which can make rich red or gold ideal for kitchen flooring. If your hickory cabinets have a golden tinge or white-washed finish, red ceramic floors offset them attractively. If the cabinetry is reddish in color, flip the scheme, using gold or white ceramic tiles for winning warmth.
Stone Tones for Contrast
For dark contrast, stone is an agreeable material. Cool blue-gray or dark-gray slip-resistant slate complements pale or bleached hickory for an almost black-and-white effect -- a versatile and attractive base that's suitable for cool aqua, blue or green bathroom linens and accessories, or warm, spicy kitchen accents, including cayenne, turmeric or mustard. Granite comes in a range of natural hues, so chances are you can find a light speckled tile for high contrast against dark or darkly stained cupboards.
Black or dark-neutral countertops highlight pale hickory, while white or off-white counters outline dark cabinetry for a standout finish, no matter what flooring you plan to use.
References
Writer Bio
Based in New York City, Jennifer Blair has been covering all things home and garden since 2001. Her writing has appeared on BobVila.com, World Lifestyle, and House Logic. Blair holds a Bachelor of Arts in Writing Seminars from the Johns Hopkins University in Baltimore, Maryland.
Photo Credits
jmed/iStock/Getty Images
jmed/iStock/Getty Images
More Articles