Light vs. Dark Backsplash
In a kitchen, the backsplash is a vital component to not only protecting the wall behind the counter, but also giving the room a clean, finished look. Backsplash tiles are available in several materials, including stone and glass, many sizes and virtually every color you can imagine. When choosing your backsplash color and style, weigh the benefits of dark and light tiles.
Matching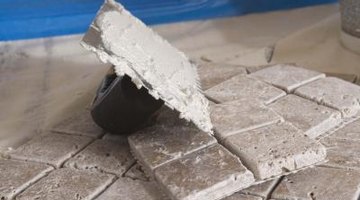 Regardless of the color of backsplash tiles you use, it's important that the backsplash fits in with the colors of your kitchen. If the kitchen is predominantly dark, a dark backsplash will blend in, but can also create too much darkness in the kitchen. Conversely, a light-colored kitchen with a light backsplash may be too bland. Though no hard rule exists, the backsplash should contain some of the colors represented in the kitchen.
Dark Backsplash
Because you can buy a dark backsplash in nearly every color imaginable, it's easy to find one that matches a dark kitchen. A kitchen with black appliances, a dark countertop and charcoal-colored cabinets, for example, pairs well with a dark gray backsplash in either stone or glass. The color of the backsplash itself doesn't need to match exactly with the countertop or cabinets, but some element of the latter two should be represented in the backsplash.
Light Backsplash
A light backsplash is ideal for bringing brightness into a kitchen. Light gray, cream and light tan are suitable with many kitchens that employ an earth-tone color scheme. Ensure that when selecting a backsplash for a light kitchen, the room doesn't take on a washed-out appearance. Some contrast between the kitchen and the backsplash is ideal, even if you want to stick with all light colors.
Multicolor Backsplash
Instead of choosing a backsplash that is made up of one solid color, installing a backsplash with a few different colors will help tie it into the kitchen but still create some eye-catching contrast. If you have reddish-stained cabinets, pick a backsplash with slate that contains some of that reddish hue. If possible, try to match the other colors in the slate to your counter, flooring or wall color in the kitchen.
Writer Bio
Toronto-based journalist William McCoy has been writing since 1997, specializing in topics such as sports, nutrition and health. He serves as the Studio's sports and recreation section expert. McCoy is a journalism graduate of Ryerson University.
Photo Credits
Jupiterimages/Comstock/Getty Images
More Articles