Do Light Fixtures Have to Match Faucets & Drawer Pulls?
If you're remodeling an existing bathroom or kitchen or building a new one, the sheer number of design decisions you have to make might seem overwhelming. When you've already selected your faucet and cabinet hardware, you'll need to choose lighting with a hardware finish that complements it.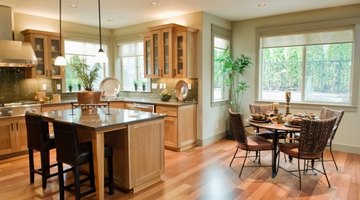 Whether that lighting hardware must match the existing hardware depends on the look you're trying to achieve.
Similar Colored Metals
If your existing faucet and cabinet hardware are a similar color to the lighting you hope to use, it can often flow seamlessly and may not even be noticeable because of the visual distance between the two. For example, the difference between brushed nickel faucets and chrome light fixtures will be difficult to discern. In this case, you can feel comfortable not exactly matching the two types of hardware.
Different Colored Metals
If your lighting is a very different color from your existing faucet and cabinet hardware -- for example, your lighting is oil-rubbed bronze but your faucet is chrome -- you'll need to tread more carefully. The two colors should complement each other and not clash. For example, do not mix gold-toned brass and chrome. However, a matte oil-rubbed bronze and brushed nickel can work together nicely, giving the room a layered, interesting look.
Look of Your Room
Determine the feeling you want in your room. If you want your entire home to feel cohesive and unified, match the hardware finishes with the lighting. However, if you'd prefer a layered or a bohemian look, choosing a variety of finishes might work best in your home.
Other Considerations
Even among certain silver metals, some finishes can cast varied lights. For example, chrome can appear blue or white next to warmer nickel colors. Bring home a sample of your finishes, and compare them to each other in the room and the lighting situation where you'll use them most often. If you are comfortable with how they look, feel free to proceed. What's most important is how you feel in your space; you won't break any design rules by combining the metals.
Writer Bio
In addition to her online writing work, Kelly Marzka writes press releases, newsletters and corporate communications for a Fortune 500 company. Her writing has appeared in major newspapers across the world. Marzka holds a bachelor's degree in public relations from the University of Georgia's Grady College of Journalism.
Photo Credits
Jupiterimages/Comstock/Getty Images
Jupiterimages/Comstock/Getty Images
More Articles