How to Match Outdoor Lighting
Outdoor lighting is an important aspect of your home's style, appeal and safety. Over the years, older fixtures may have been replaced, resulting in a haphazard mix of sizes and designs. As with a fresh coat of paint or new windows, a unified lighting presentation can quickly update and beautify the look of your house. Whether you're replacing a single fixture or all of them, you'll need to focus on a few key elements to find the best matches for your lighting scheme.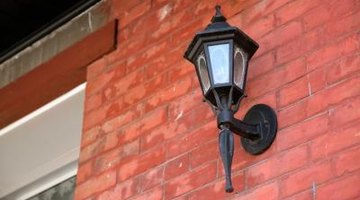 Consider the style of your home. Choose lighting that exactly matches the Arts and Crafts style of the house, or a complementary traditional design. Keep lighting streamlined and minimal for modern homes. Look for ornate fixtures that can compete with the scrolled trim of a Victorian home.

Match the color of the fixtures, particularly lighting that is located on the same side of the house. If the front door light is brass, all of the porch fixtures and lighting on an attached garage should be brass. This can be tricky when trying to match an existing fixture with a patina or brushed finish that varies in shade from newer products. A slight variation won't matter on lighting spaced far apart. For lights that are closer in proximity, consider replacing both fixtures with a matching set. Alternately, find a style that matches the style of the existing piece and paint both fixtures to unify them.

Choose colors that complement the design of the home. Bronze, copper and iron finishes work well with traditional homes. Shiny brass and chrome fixtures match the sleek style of modern houses, but black and brightly painted colors also make a striking statement.

Keep the fixtures on the same scale. A grand, multibulbed front door light will look awkward if paired with small garage, walkway or porch lights. The lighting should also match the scale of your home. Tiny front door sconces would look insignificant on a two-story, pillared entrance, just as a large pendant light will overpower a small cottage porch. If you need more light on a small scale, find a fixture that accommodates a higher-wattage bulb.

Match the glass. Outdoor lighting fixtures can have clear, colored, frosted or textured glass. This alters the tone and intensity of the light cast, and creates a noticeable difference between fixtures with nonmatching glass.

Consider buying the same brand of lighting. Many lighting and home improvement stores carry complete lines of outdoor fixtures from the same manufacturer. These complementary sets make it easy to put together a matching set of lights in the same style and finish for your home.

Coordinate as many elements as possible for a unified look. Sometimes it just may not be possible to find a fixture that matches your existing lighting in all aspects. Find the best compromise. If the fixture is of the same color, scale and glass design, its more contemporary shape should still blend well with the traditional fixtures you already have.
References
Writer Bio
Valerie David has been a professional writer for over a decade, composing articles for TVOvermind.com, TheFrisky.com, IMDB, TVNow.com and her own TV news blog. She has also been published in fiction, with short romantic stories and a manga comic script. David holds a Bachelor of Arts in English, with extensive background as a research librarian.
Photo Credits
Jupiterimages/Photos.com/Getty Images
More Articles