Vinyl Siding Ideas for a Small Ranch
Vinyl siding is a versatile and affordable exterior building material that is well-suited for ranch-style homes. Vinyl siding colors and design can add visual interest to the simple, long lines of a ranch home. When choosing vinyl siding for a small ranch home, consider options that complement the location and style of the home through colors and accent materials.
Earth-Tone Colors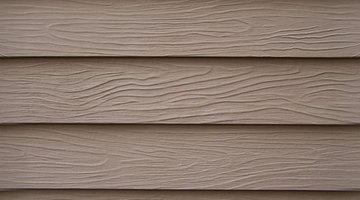 Traditional vinyl siding colors for a small ranch home are neutral, earth tones that do not overwhelm the size of the house. Dark or bold colors can make a small house seem even smaller; light and natural colors laid horizontally elongate a house and make it appear larger. Choose colors that complement the natural landscape. For a New England ranch set in the woods, light browns or gray tones work well; for ranches in more desert-like areas like Arizona, sunny yellow or ochre blends seamlessly with the gold-toned surroundings. Select earth tones that are not too saturated; light blue, mint green and beige are popular and timeless choices.
Color Combinations
Vinyl siding lends itself to selecting a variety of colors because of the ease of installation. Having several colors on the exterior of a home makes a bold statement; to avoid making the house seem loud or overwhelming, choose colors that are different shades of the same color. Install vinyl siding upward from the bottom of the house, gradually fading into lighter shades of the same color; deep brown vinyl siding below the window line fades into a more neutral sand color at the windows.
Alternatively, use a different color on the front and back of the house than on the sides of the house. Light green siding on the front of the home paired with evergreen sides is an elegant and visually interesting color choice that adds character to the simple lines of a ranch home. For more adventurous designers, choose light shades of complementary colors; a sunny yellow vinyl front pairs well with a delicate lavender vinyl on the sides of a home to create the feeling of a romantic garden.
Shutters and Trim
Coordinating your vinyl siding to the shutters and trim on your ranch creates a cohesive style that adds value to a small home. Both shutters and trim add an element of classic style common to larger homes. A versatile and popular combination is light-colored siding with darker shutters. Try a sand-colored ranch home with black or dark brown shutters or sky blue siding paired with navy shutters.
Trim on the home's corners or around the home's windows also is an opportunity to create color combinations with vinyl siding. Crisp, white trim adds a clean finish to any color siding. For a more striking visual impact, match the color of the trim to the color of the shutters to make the ranch seem like a cozy, framed cottage.
References
Writer Bio
Hannah Wahlig began writing and editing professionally in 2001. Her experience includes copy for newspapers, journals and magazines, as well as book editing. She is also a certified lactation counselor. She holds a Bachelor of Arts in English from Mount Holyoke College, and Master's degrees in education and community psychology from the University of Massachusetts.
Photo Credits
More Articles