Different Colors of Vinyl Siding
Viewing vinyl siding colors online can help homeowners familiarize themselves with the basic colors offered; however, viewing color choices on a computer screen does not always provide the true color. Making a final decision should occur with actual product samples in hand.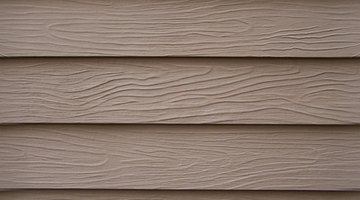 Narrow the color choices and call the manufacturer to request vinyl siding color samples. Some manufacturers may send you to a retailer or sales representative for samples.
Warm Colors
Warm vinyl siding colors are found in the brown and rusty red color palettes. Mocha, brick, saddle brown, terra cotta and natural clay all fall into this category. Create an arts-and-crafts-style color palette by choosing several warm siding colors and use them in combination. Try a barn or brick red for the trim and windows, and a natural taupe clay color for the exterior walls.
Cool Colors
Cool colors are found in the blue and green color palettes. Oxford blue, spruce green, ivy green and pacific blue are included as cool colors. Create a traditional exterior color palette by using these colors in combination with a neutral color like colonial white, ivory or a sterling gray. A traditional color palette using oxford blue vinyl siding on the exterior walls, with a creamy white trim works well. Paint the door a deep, dark red or black for a complete colonial feel.
Neutral Colors
Neutral colors are typically abundant in vinyl siding color palettes. Bone, ivory, pearl, colonial white, desert tan and sterling gray are commonly available, although color names may vary with each manufacturer. Using vinyl siding in an all-neutral color palette creates a very modern-looking home. Exterior walls covered in a taupe siding color, like a desert tan, combined with trim in a bone- or ivory-colored siding create the perfect backdrop for a colorful landscaping design.
References
Writer Bio
Alex Burke holds a degree in environmental design and a Master of Arts in information management. She's worked as a licensed interior designer, artist, database administrator and nightclub manager. A perpetual student, Burke writes Web content on a variety of topics, including art, interior design, database design, culture, health and business.
Photo Credits
house siding 3 image by Psycience from Fotolia.com
house siding 3 image by Psycience from Fotolia.com
More Articles