Saltbox Home Paint Colors
The saltbox style of house dates back to the mid 1600s in America. Appropriately named based on its similarity to the shape of salt storage boxes of the same vintage, these homes were classically one story in the rear and one and a half to two stories in the flat sided front. Saltboxes were first built in New England and featured natural shake shingle or clapboard exteriors with classic indoor colonial interiors in muted pastels.
Pastel Interior Palette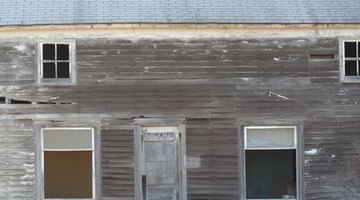 Classic colonial colors were often found in saltbox homes. Shades of pale yellows, warm pale blues or rich colonial tans were used in rooms that often provided the homeowner with two or more purposes. Choose yellows from historical New England palettes or from those found in colonial Williamsburg paint collections.
Wood Brown
When you research photos of original saltbox homes, most were adorned in wooden exteriors, perhaps including a stone side to hold in fireplace heat and absorb afternoon sun to keep the home warm. Paint your saltbox in historically correct colors by using natural colors found in original clapboard or weathered shake shingle exteriors.
White
White exteriors are a common exterior color for saltbox homes found in the Historic American Buildings Survey in the Library of Congress. White saltboxes have been documented in New England states while natural wooden examples of these homes were more prevalent in vintage saltboxes found in Oregon.
Bold Colors
A saltbox home offers a large flat palette that can lend to relatively bold warm color choices. Dark barn reds, Williamsburg blues, maize yellows and sage greens are colors most appropriate for the home's shape. When choosing a bold color scheme, use trim that is toned down. Choose a dark sage green for the trim of a barn red home or a colonial tan on a maize yellow home.