Exterior Paint Color Ideas for Florida
Florida residential architecture reflects the state's lengthy ramble between the Atlantic and the Gulf of Mexico, and its varied topography and colorful history. Houses range from preservation district Art Deco beach homes to shotgun shacks to coastal cottages to Spanish Colonial courtyard homes to stately brick estates with grand porch columns in the hilly north. One constant in almost every corner of the state is sun, so consider insulation, fading and color saturation when choosing paint for your Sunshine State house exterior.
Sandy Survivor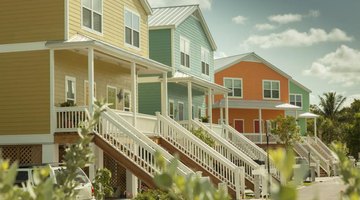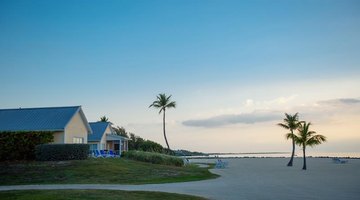 Old coastal neighborhoods with mature trees, crushed shell driveways and a block or two walk to the beach are laced with streets full of tin-roofed classic Florida architecture. Houses are wood with wide eaves over surrounding porches, and large shuttered windows to catch every breeze. Paint the siding white to reflect the harsh midday sun away, and highlight shutters, doors and window frames with a chalky oyster paint or a beige clay shade. A smaller home in white and neutrals seems more expansive from the road, and the pale exterior harmonizes elegantly with the silvery tin roof.
Sunblasted Suburban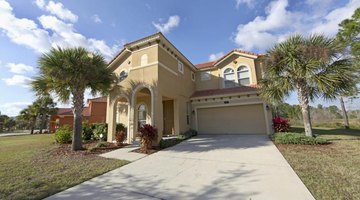 A default architecture in Florida's challenging climate is a stucco finish. Smooth or rough, the plaster-like mix of cement and sand stands up to grueling sun, tropical rains and the lashing of fierce hurricanes. Paint not only decorates a stucco exterior, it protects it. Exterior color choices are typically light or white to help insulate the interior from the blast of the sun's heat. Take the roof color into account when selecting siding paint for your suburban Florida home -- red barrel tile works with some shades, gray shingles or old-fashioned white concrete tiles might inspire others. Consider a more contemporary bisque, taupe, tan, cocoa, putty or dove-gray paint to update your home. Play with darker and lighter shades of the same color on architectural details such as arches, semicircular vaults, and distinct vertical sections of the facade.
Tropical Tints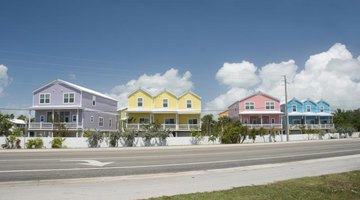 Some neighborhoods in South Florida are vibrant exhibits of an uninhibited Bahamian palette. Houses are painted electric blue, hot pink, tangerine, grape, bright turquoise and sunflower yellow, with contrasting or darker trim. If you live in one of those zip codes, go for it. If you love the vibe but appreciate a more subtle approach -- or your neighbors do -- select a pastel or confectionery color for your home's exterior. Light melon or apricot is cheerful with burnt orange or coral trim. Faded olive is sharp with charcoal trim and a papaya-red front door. Lilac or lavender siding soothes with deep royal purple trim. Sand-pink with coca or seafoam-green trim could probably handle a couple of date palms and a front-lawn flamingo. A honey-gold home with mustard trim greets visitors with a pansy-purple or African violet front door.
Decorative Art Deco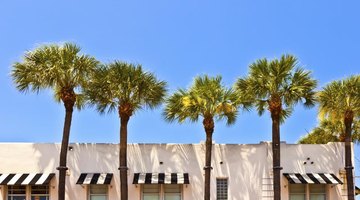 South Beach in Miami has one of the most distinctive collections of Art Deco architecture anywhere in the world, and the narrow strip of land behind hotel row is crammed with low-rise houses, most built in the 1920s and 30s. Homes might feature stepped back facades, bas-relief stucco, raised accenting in nautical and tropical flora and fauna motifs. If you paint the exterior walls white, outline eyebrow frames over windows, raised groups of horizontal bars and large raised circles in vivid coral. Paint raised vertical facade columns and porch pillars and concrete railings aquamarine. Color a stucco exterior medium-blue-turquoise with blinding white trim, and highlight the raised ocean liner medallion over the door in green. A sandy gold exterior flaunts its decorative panel of palm trees and flamingos, painted in pinks, emerald, white, turquoise and indigo. In every preservation district, exterior colors and decor are determined according to specific guidelines. Start there when picking colors for your home.
References
Resources
Writer Bio
Benna Crawford has been a journalist and New York-based writer since 1997. Her work has appeared in USA Today, the San Francisco Chronicle, The New York Times, and in professional journals and trade publications. Crawford has a degree in theater, is a certified Prana Yoga instructor, and writes about fitness, performing and decorative arts, culture, sports, business and education .
Photo Credits
AdrianPope/iStock/Getty Images
Levranii/iStock/Getty Images
Lucy Clark/iStock/Getty Images
Alexander Reitter/iStock/Getty Images
Meinzahn/iStock/Getty Images
More Articles