Ideas for Trim Color on a Tan House
Beige doesn't have to be boring. If your home's exterior is a tame tan color, use it as a great canvas for an eye-popping accent color. Picking the right trim color for a tan house need not be daunting. The perfect accent color can give it a unique personality that can be sophisticated or whimsical.
Keep It Simple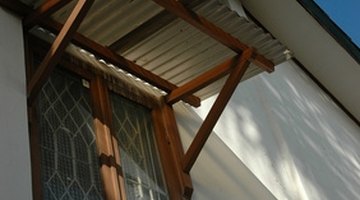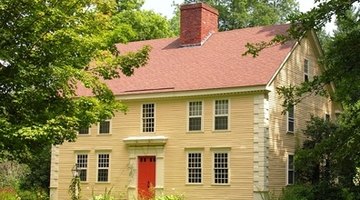 To find inspiration for your trim color, look no farther than your back door. Your surroundings, landscape and neighborhood can provide ideas, as well as the building materials used, age and architecture of your home.
The architecture should always be your starting point. For inspiration, look for houses like yours whose colors you admire. If you're interested in historical accuracy, research your home's period style and draw color inspiration from that. Your local historical society may be a helpful resource. Don't forget to consider the roof, chimney and other existing elements of your home, to insure the trim color you choose works in harmony with not only the tan exterior, but also these other major components. The landscaping is another important factor. Select a trim color that works well with your flower gardens, flowering trees and shrubs. A dark red trim would be a great choice for a home surrounded by flowering pink and red crab apple trees in the spring and burning bushes that turn a brilliant red in the fall. Matching the trim to the actual windows will make them look bigger than if you break up the color by painting a dark trim around a white window or a white trim around a dark window. A monochromatic color scheme is one of the easiest to accomplish. Review color strips at your local paint store. Use one color strip to provide body trim and accent. Make sure there is enough contrast between the colors by alternating to every other color on the strip. For a subtle look, use the color immediately above or below your house color on the strip. So for a medium tan home, paint your trim color one or two shades lighter or darker in the same color palette for a simple, clean, sophisticated look that will also make your house look larger.
Dark in Contrast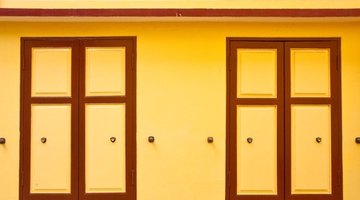 The accent trim color you choose will be influenced by your location. Hot pink or pale peach pastel trim on a small tan bungalow in the woods, for example, would clash with its environment. Another critical factor is your home's size. You can emphasize or minimize certain features on your home's trim with color. Lighter colors visually expand a home's woodwork, details or molding, while darker colors shrink them. For a great way to highlight your home's trim, use a dark, glossy contrasting color in navy blue or cranberry. For a New England look, wake up bland beige tones by picking a patriotic blue or red and use the same or similar color to perk up shutters, front door and accents. A common Midwest choice is using a light neutral trimmed in green, resembling the shades of wheat and surrounding cornfields in the heartland.
Warm It UP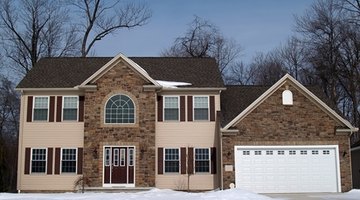 Since tan is an earth tone, it usually works best paired with warmer colors. Make sure the trim color you choose, whether it's white, red, green or a lighter or darker shade of tan, is a warm tone and not a cool color. A warmer shade of red, for example, would be a dark red with more red than black, or a red with yellow in it for a warm paprika or coppery rust color. A warm, creamy white, as opposed to a cool grayish white, will create a crisp, clean look. And don't forget to check out preselected color schemes chosen by the experts at your local paint stores. Some companies offer colors specific to periods or styles, such as Martin Senour's Williamsburg Collection or the nature-inspired Fine Paints Color Collection. Look at samples outside your home and try a color on your house before deciding.
References
Writer Bio
Penny Zimmerman-Wills is a former newspaper reporter, magazine editor and communications director who has written and edited for newspapers and magazines since 1995. Her work has appeared in "Springfield Magazine," "Illinois Magazine," "Parent Magazine," "SO Magazine," "Illinois Conoissieur," "Illinois Times" and "LTC Today." Zimmerman-Wills received a Bachelor of Arts in journalism from Western Illinois University.
Photo Credits
window image by bayu harsa from Fotolia.com
vintage new england colonial. image by Tom Oliveira from Fotolia.com
Monk's house windows with Thai style wood carving image by SURABKY from Fotolia.com
new house image by Shannon Workman from Fotolia.com
More Articles