Ideas for Paint Colors for an Outdoor Playhouse
Children usually enjoy having a private space of their own, so an outdoor playhouse can be an ideal addition to your backyard. Whether you build it from scratch or use a kit, decorating the house is one of the most enjoyable steps in the project. Choosing a color scheme for the playhouse's exterior is particularly important since it must appeal to your children and fit with the rest of your landscape. To find the right shade for the playhouse, consider the age of your kids, their sex and how bold a look you want for your backyard.
Natural Stain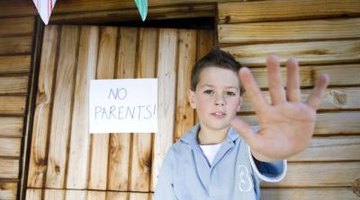 To give your children's wooden playhouse a rustic look, forgo paint and choose a natural stain instead. Choose a light or mid-toned, transparent stain that enhances the natural color of the wood and allows the grain to show through. You can even forgo stain completely and cover the playhouse with a clear topcoat for a truly natural finish. Both looks are unisex options, but may be particularly good choices for a boy's playhouse since they provide a rugged, log-cabin look. However, to give the playhouse a polished appearance, consider painting the roof black, brown or red to add visual interest to the house.
Pastels
When painting a playhouse for girls, a pastel color palette is an ideal option because it can create a candy cottage look for the structure. Pink is an obvious choice if you want to give the house a sweet, fairytale look. However, for a more unique appearance, try a peach or lilac shade. You can also try a pale yellow to give the playhouse's façade a cheerful, sunny look, or a mint shade to help the playhouse blend in with the rest of your green landscape. To make any of these pastel shades pop, paint the playhouse's trim white for a crisp, fresh look.
Earth Tones
For a boys' playhouse, try painting the façade in an earth-tone color. A brown shade gives the house a rugged look that can blend in well with the rest of your landscape. You can balance the dark color by painting the trim white, cream or light blue to brighten the look of the playhouse. You can also use a tan or gray shade to give the façade a lighter look. However, for a fun twist that you son will enjoy, try painting the playhouse in a camouflage pattern for a military-inspired look.
Primary Colors
If you are painting a playhouse for boys and girls, primary colors can form an ideal color palette. You can paint the façade a bright blue, red or yellow, and use the remaining shades for the trim, shutters and roof, so the house has a cheerful, colorful look. However, for a more subtle option, choose one of the primary colors for the façade and paint the trim white to give the playhouse a bright but simple look.
References
Writer Bio
Based in New York City, Jennifer Blair has been covering all things home and garden since 2001. Her writing has appeared on BobVila.com, World Lifestyle, and House Logic. Blair holds a Bachelor of Arts in Writing Seminars from the Johns Hopkins University in Baltimore, Maryland.
Photo Credits
Jupiterimages/Goodshoot/Getty Images
More Articles