What Are the Best Exterior Paint Color Design Ideas for a Mobile Home?
A mobile home is an affordable living option that allows you to enjoy life as a homeowner. Due to the size and structure of a mobile home, you can use exterior paint colors to enhance the beauty of your property. Some exterior paint colors can make your mobile home appear larger and increase your overall curb appeal.
Uniform Light Colors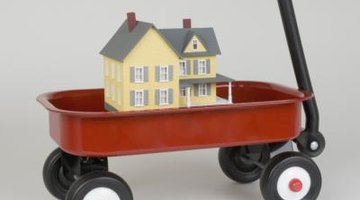 To maximize the size appearance of your mobile home, it is best to paint the entire structure with a uniform, light-colored paint. Paint colors like white, off-white, eggshell, tan, beige, cream and butternut can be used on your entire home if you want to make the property look long and wide. Since uniformity might seem boring, you can add dark-colored house numbers or a black mailbox, or you can paint your front door a bright color to add interest to your mobile home.
Dark Base with Matching Trim
If you want to make your mobile home appear to have a solid foundation, you can paint the bottom portion a dark color, like ebony, chocolate brown or slate gray. Paint the rest of your home a complementary light color, like white, tan or yellow. To bring the entire look of the structure together, use the dark-colored paint color on the trim and on the frame around your windows and doors. Add matching house numbers to provide a focal point for the front of your house.
Medium-Tone Neutrals
If you want your mobile home to look like a permanent housing structure, use paint colors that resemble those on houses in nearby neighborhoods. Many homes are painted with neutral colors, so landscaping, lawn ornaments, shutters and decorative furnishings stand out against the seemingly neutral canvas. Choose medium-tone neutral paint colors like mocha, gray, rust, caramel and taupe on the exterior of your home. Place a colorful pot of flowers and a garden bench next to your front door to draw attention to your attractive accessories.
Shades of Yellow
Yellow is a friendly and cheerful color, so opt for muted yellow exterior paint if you want the look of a welcoming home. Soft yellow paint colors, like custard, daffodil and marigold, are visually stimulating and create curb appeal. Avoid overly bright yellow paint shades that could overpower your mobile home design. Paint the trim a bright white or a soft black to frame your windows and doors.
References
Writer Bio
As curriculum developer and educator, Kristine Tucker has enjoyed the plethora of English assignments she's read (and graded!) over the years. Her experiences as vice-president of an energy consulting firm have given her the opportunity to explore business writing and HR. Tucker has a BA and holds Ohio teaching credentials.
Photo Credits
Jupiterimages/Comstock/Getty Images
More Articles