How to Landscape to Hide a Propane Tank
Propane tanks are a part of many homes because they provide efficient, affordable fuel. These tanks are often buried underground, making them invisible to homeowners and guests. If your tank is aboveground, you'll want to camouflage it so it doesn't stand out. This can be done by obscuring the propane tank with landscaping. You can also have your propane tank put underground at a later date if you want access to its space in the yard.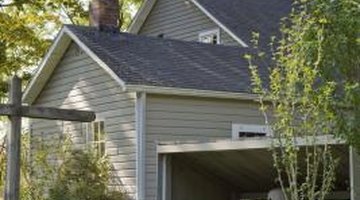 Step 1
Create a living privacy screen using evergreen hedges. Try boxwood hedges for an easy, fast-growing hedge. Allow the shrubs to grow tall enough to hide the propane tank. Groom the hedge in the spring and fall for a relaxed look, or every month for a finished, neat look.
Step 2
Install a privacy screen around the propane tank. Build your own, or purchase a ready-made screen. You can make privacy screens from any material, including metal sheeting, lattice or rails. Create a solid fence-like screen, or stagger several privacy screens. Staggering the screens will block the view from a distance, but will allow you to easily access the propane tank.
Step 3
Erect a fence around the propane tank. Choose solid fencing that coordinates with your existing fencing. If the new fencing doesn't match, the area will still stand out in the yard. This works best if you don't have height restrictions for fencing in you municipality.
Step 4
Install a stand-alone trellis or attach a trellis to your fencing. Plant fast-growing vines on the trellis to hide the propane tank. Try ivy for year-round greenery, or a flowering vine, such as honeysuckle, for fragrance and color in the warmer months.
Step 5
Build a shed around the propane tank. Choose building materials that match your home so the shed looks like a natural addition to the yard. Ensure that the shed is approved by the propane company and that all safety requirements are met. You and the propane company should have easy access to the shed.
Tips
Always choose plants that will thrive in your growing conditions.
If you can't hide the propane tank, try embracing it by painting it. You can make the propane tank a fun part of your yard by turning it into a giant corncob or watermelon.
Writer Bio
Shara JJ Cooper graduated with a bachelor's degree in journalism in 2000, and has worked professionally ever since. She has a passion for community journalism, but likes to mix it up by writing for a variety of publications. Cooper is the owner/editor of the Boundary Sentinel, a web-based newspaper.
Photo Credits
Jupiterimages/Creatas/Getty Images
More Articles