Chicken Wire Alternative
Chicken wire is commonly used to fence in chickens, usually in a coop, and keep out pests. Traditional chicken wire is made of galvanized metal. Some people think chicken wire is unsightly, and they want a more visually pleasing alternative. Depending on your needs and environment, there are several.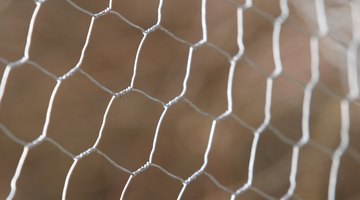 Chicken Wire Alternatives
If you want flexible see-through fencing, consider plastic poultry fencing that is UV stabilized to withstand the heat of the sun. This type of fencing can hold its shape better than metal and won't distort or stretch. Plastic fences like this cut and handle easily. They have smooth tops and bottoms. A fencing called rabbit guard is designed to keep pests out of gardens. It comes in metal and plastic coated varieties.
Other Types of Fencing
For a nicer look, use hardware cloth (typically used for screen doors) to back a higher, more traditional-looking fence such as bamboo or willow. You can attach hardware cloth to any type of fence, even a picket fence, to create a more aesthetically pleasing area where your animals are housed.
Where to Buy
Fencing can be purchased at any home improvement store. Simply ask one of the salespeople to direct you to the area of the store where it can be seen. Often a sales representative can help you find the best kind of fencing for your needs and budget. You can also order a fence from a catalog or go online.