Deck Skirting Other Than Lattice Styles
Decks provide homeowners with a place to sit and relax or to entertain neighbors and guests. However, the space under a deck can lessen a home's curb appeal. Adding skirting to cover the under-structure is an easy solution. There are many ways to skirt a deck and many materials from which to choose. Homeowners can purchase skirting at most home improvement stores.
Vinyl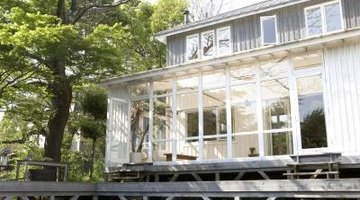 Vinyl is one of the most common types of skirting materials. It is particularly common for use as skirting under mobile homes, but it can be used as deck skirting as well. Vinyl skirting can come with embossed woodgrain to give your deck a more natural look. It is typically ventilated in order to let damaging heat and moisture escape. Vinyl skirting installs on a track and is easily removed for accessing the underside of the deck. It is low maintenance and cleans up easily with soap and water, making it especially convenient for those with limited mobility. Using vinyl skirting is also the ideal solution to keep unwanted pests and animals from getting under the deck because the seams do not leave any gaps through which intruders can access the underside of the deck.
Wood
Wood can be used as deck skirting and painted or stained to match the deck or home. T-111 plywood siding is one of the most common types of wood used for skirting. This plywood has the appearance of vertical siding and homeowners with tall decks can frame doors in that have a hidden appearance. Another wood skirting option is to cut 1-inch by 6-inch boards and install them vertically, sealing between the boards with silicone and then painting or staining them. They can also be installed horizontally or be cut and installed in different directions.
Metal
There are several types of metal that can be used as skirting. Corrugated tin withstands high winds and corrosion and is also fairly animal proof. It is flexible, reflects heat and can be painted to match the home. Metal fencing is another way to skirt a deck, especially if the goal is to keep animals out or add an industrial appeal to the home's exterior. Metal fence options include chain link, wire mesh and fences with vertical aluminum or wrought iron bars. Most of these are relatively cheap options and can be found at any hardware or home improvement store.
Bamboo
Bamboo is another alternative for deck skirting. It is highly durable and can withstand high winds and harsh weather. Bamboo can serve as a natural background for flower beds and and provides a neutral aesthetic to a home exterior. It is ecologically one of the best skirting choices because it is a renewable resource. Bamboo generally costs less than hardwood skirting and installs in much the same manner. Bamboo fencing can be purchased in easy-to-install rolls that can be cut to fit around the deck. Choose from fences made of whole, round bamboo stems, flat bamboo pieces or bundles of bamboo branches.
References
Writer Bio
A former cake decorator and competitive horticulturist, Amelia Allonsy is most at home in the kitchen or with her hands in the dirt. She received her Bachelor's degree from West Virginia University. Her work has been published in the San Francisco Chronicle and on other websites.
Photo Credits
ULTRA F/Digital Vision/Getty Images
More Articles