The Average Cost of Siding Removal & Replacement
Brick, stone, wood and stucco are among the common materials used to beautify a home's exterior. However, some materials require expensive and time-consuming maintenance every few years with repainting, repairing, caulking or patching. Siding can eliminate much of this expense and inconvenience, while adding insulation and value.
Wood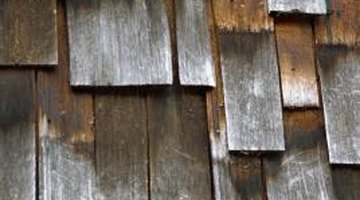 The oldest of all sidings, wood adds natural beauty to a home and can be painted or stained in different colors. But wood must be painted, stained or sealed every few years to prevent rot. Authentic wood siding costs from $5 to $8 per square foot for both labor and materials. Cedar shingles for a 1,500-square-foot home can run from $7,500 to $12,000. For pine, spruce or fir clapboard, prices are cheaper at $5 to $7 per square foot, brining the average house cost to a range of $7,500 to $10,500. Engineered wood, made from ground composite material, is cheaper still at $2 to $5 a square foot, or $3,000 to $7,500 for the average home.
Aluminum
Aluminum can duplicate textures from wood and shingles, and comes in many styles and colors. It requires only washing when it's dirty, and can last about 35 years. However, its pre-finished paint can fade and chip, and may need repainting. Another disadvantage is denting. Removing aluminum siding costs about $2 to $3 a square foot, or about $6,000 for a 2,000 square-foot-home. But homeowners can tackle this job to save money. Aluminum installation is usually priced per square, which measures 10-by-10 feet, or 100 square feet. Costs run about $450 per square, or $9,000 for a 2,000-square-foot home.
Vinyl
Vinyl siding is arguably the most maintenance-free of all siding materials. It comes in multiple colors and never needs repainting. The only maintenance required is some washing with a garden or pressure house. Vinyl siding costs about $250 to $300 per square, including installation, or around $5,000 to $6,000 for a 2,000-square-foot home. Premium siding, which is thicker, costs about $400 to $600 per square, or about $5,000 to $6,000 for a 2,000-square-foot home. Estimates generally include the cost of installing soffits, fascia and window channels.
Fiber Cement
Fiber cement siding bonds cement, sand and cellulose fiber in layers under high-temperatures, producing a very strong material. The outermost layer can be imprinted with textures such as shingles, stone or clapboard, and designed with many colors. The siding costs about $500 per square installed, with a 2,500-square-foot home costing about $12,500. The material does not fade or dent, but requires routine maintenance. The ends of boards and areas around windows and doors are susceptible to water damage, and require some caulking every year. Repainting every seven to 15 years is also necessary, which can cost $5,000 to $10,000.
References
Writer Bio
Aurelio Locsin has been writing professionally since 1982. He published his first book in 1996 and is a frequent contributor to many online publications, specializing in consumer, business and technical topics. Locsin holds a Bachelor of Arts in scientific and technical communications from the University of Washington.
Photo Credits
Dynamic Graphics Group/Dynamic Graphics Group/Getty Images
More Articles