What Is the Weight of Steel Siding?
Steel siding is a relative newcomer to the home siding scene. Steel siding offers a durable material that lasts for many years and requires little maintenance. It's available in many colors to provide a stylish exterior for today's homes.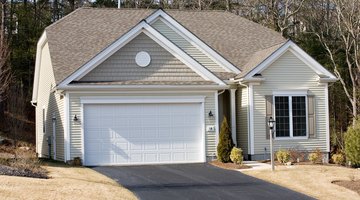 Some homeowners may be concerned about the weight of steel siding, which is greater than other types of siding such as wood, vinyl or aluminum materials.
About Steel Siding
Steel siding is formed from steel sheets. The siding is custom measured and applied to homes in sheets. Steel will not rot, blister or be invaded by insects like some types of siding. Because steel is a very strong material and forms the core of the siding, the siding will not sag, ripple or vibrate. Steel siding is fire-resistant and resists damage from hail better than many grades of aluminum siding. Steel siding generally costs from $7 to $8 per square foot, as of 2011. The price makes it one of the most expensive types of siding, but its long-lasting capability makes it well worth the price. Steel siding is difficult to work with and is generally installed by professional siding technicians.
Steel Siding Coatings
Most steel siding materials are covered with a polyvinyl coating that protects the steel from rusting. Other types of coatings are used for commercial or agricultural buildings. Aluminum coatings offer corrosion resistance for steel siding. Zinc coatings may also be used, which provides galvanized protection for the material. All coatings help to protect the steel from chemical reactions that occur when moisture is present. Any cracks or breaks in the coating materials should be repaired as soon as possible to continue the protection of the steel underneath the coating.
Weight of Steel Siding
The weight of steel siding depends on the thickness, or gauge, of the material. Generally, steel siding weighs between 55 to 100 pounds per 100 square feet. Generally, 24, 26 or 29 gauge steel is used for siding applications. This thickness of steel offers good wear and hail resistance.
Maintaining Steel Siding for Longest Wear
With routine maintenance, steel siding can last 20 years or more. Regular rinsing with a garden hose will remove ordinary dirt and plant residue. A solution of trisodium phosphate and water can be used to remove more stubborn stains. Pressure washers should be used with care to avoid spraying water under the siding materials, which can drip down later onto clean surfaces. The high pressure can also dislodge siding.