Types of Roofing for Mobile Homes
Harsh weather, temperature changes and wind make mobile home roofs vulnerable to leakage. Several types of roofing give mobile home owners options when it comes to keeping water from trickling down your walls or dripping from the ceiling, Some options remain more affordable than others.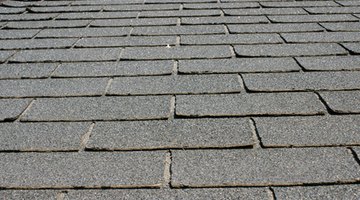 A few roofing types take more skill to construct, causing do-it-yourselfers to consider hiring experienced roofers to get the job done right.
Steel Roofing
Steel roofing offers an option for mobile homes that can withstand the weight of the metal. The roofs are usually made from recyclable material, offer durability and require little maintenance. Mobile homes that feature 2 x 2-foot lumber don't work well with steel roofing. However, if your mobile home was constructed from 2 x 6-foot lumber, steel works well. Adding a layer of insulation with the steel helps keep the home warmer.
Traditional Shingles
Similar to traditional homes, shingle roofs work well on mobile homes, too, but mobile homes can only take one layer of shingles due to the support structure of the home. Traditional homes can usually handle two to three layers of shingles since they offer more support. Shingles come in fiberglass or asphalt, with both offering water resistance and durability.
Composite Roofs
Composite roofs offer an affordable solution using a special type of roof shingle that lasts up to 50 years. While similar to traditional shingles, composite shingles offer higher durability along with a multitude of colors and styles to choose from. The shingles can resemble regular shingles, wood shake or slate but lack the weight or cost of these heavy materials. Some companies offer composite shingles designed to resist mold and algae, ideal for mobile homes located in humid climates. For mobile homes in windy locations, though, composite shingles easily blow off, making them less desirable for those areas.
Rubber Membrane
If you plan to live in your mobile home for years to come, rubber membrane roofing offers a long-term, but costly solution. Rubber membrane roofs work best on flat or low-sloped mobile home roofs. The expensive material lasts for decades. Rubber membrane requires skill to install, though, so you may want to hire an experienced contractor.
References
Resources
Writer Bio
Nancy Wagner is a marketing strategist and speaker who started writing in 1998. She writes business plans for startups and established companies and teaches marketing and promotional tactics at local workshops. Wagner's business and marketing articles have appeared in "Home Business Journal," "Nation's Business," "Emerging Business" and "The Mortgage Press," among others. She holds a B.S. from Eastern Illinois University.
Photo Credits
roof image by kuhar from Fotolia.com
roof image by kuhar from Fotolia.com
More Articles