How Thick Should a Roof Be?
The roof of the house must be structurally sound to support the weight of the shingles. The roof's main job, however, is to protect the interior of the house and personal belongings from the outside elements.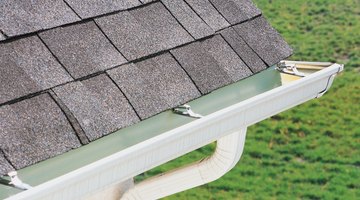 How thick a roof is depends mostly on the size of the rafters used in the roof construction, but there are additional elements, including the thickness of the roof sheathing and the thickness of the shingles you choose.
Rafters
Rafters are the structural beams that support the weight of the roof sheathing and the shingles. Rafters vary in size from house to house and the thickness of the rafters depends upon the pitch of the roof and the roof span. Standard rafters range in size from 2-by-4s to 2-by12s, with the larger rafters being used to span greater distances or lower-pitch roofs.
Trusses
Trusses are not as thick as rafters are because they are engineered from multiple wood members with the ability to support a heavier load than a similar size rafter supports. Like rafters, however, the dimensions depend upon the engineer's specs for the roof. In general, a roof truss, manufactured from 2-by-4 lumber, will support as much roof load as a 2-by-6 or 2-by-8 rafter.
Roof Sheathing
Standard roof sheathing, which consists of 4-by-8 sheets of plywood or oriented strand board, or OSB, is 1/2-inch thick and attaches directly to the roof rafters or the roof trusses. An exception to this standard, however, may occur if you intend to install slate, concrete or tile shingles on your roof. To support the added weight, the architect or engineer may require the roofing contractor to install 5/8 inch roof sheathing.
Shingles
Standard asphalt shingles add very little thickness to the roof, because a standard three-tab shingle is about 3/16-inch thick. When installed, however, the shingles overlap, doubling the thickness. Other types of shingles, including number 1 wood, cedar shake and tile are thicker, although the thickness depends upon the individual brand of shingles you select. Metal roofing is thinner, but is often corrugated or formed with a standing seam, which can increase the total roof height by 1 to 2 inches.
Weight
More important than the thickness of the roof is the combined weight of the shingles. In many communities, building codes will allow a second layer of shingles but will not allow a third layer because the weight of multiple layers puts too much strain on the roof's structure.
References
Resources
Writer Bio
Glenda Taylor is a contractor and a full-time writer specializing in construction writing. She also enjoys writing business and finance, food and drink and pet-related articles. Her education includes marketing and a bachelor's degree in journalism from the University of Kansas.
Photo Credits
Comstock/Comstock/Getty Images
Comstock/Comstock/Getty Images
More Articles