What are Some Lightweight Decking Alternatives to Plywood?
Although the earliest examples of laminated wood may date from ancient Egypt, builders did not adopt plywood as a construction material until the early 20th century. Development of waterproof adhesives in 1934 saw plywood become an established raw material for many industries, and by 1975 over 16 billion square feet of plywood were produced in the United States. As of 2011, use of plywood is still widespread in spite of the arrival of alternative modern materials.
Usage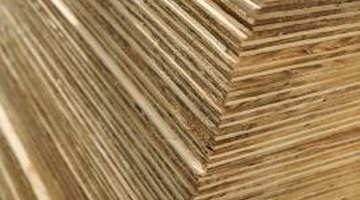 Choice of decking material is heavily dependent on its intended usage. Builders commonly use plywood decking as an under-layer, also called a substrate, for roofing and interior flooring. External uses include garden decks and walkways, boat decks, docks, and floats. The density of plywood varies depending on the kind of wood used to make it, but an 8-by-4 foot sheet of 1/2-inch thick plywood typically weighs about 45 pounds, a sheet of 3/4-inch plywood about 68 pounds.
Cellulosic Fiberboard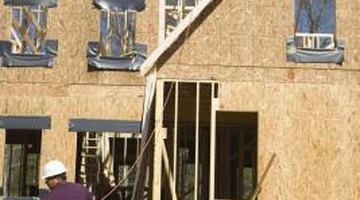 Cellulosic fiberboard is a low-density wood-based building material that provides an alternative to plywood roof and floor decking, and also has good thermal insulation properties. The manufacturing process for cellulosic fiberboard is very similar to paper making, and it is available with up to 100 percent recycled paper content. A sheet of cellulosic fiberboard weighs about half as much as an identically sized plywood board, and although architects typically specify slightly thicker material when using fiberboard, there is still an appreciable weight saving.
Fiberglass Reinforced Plastic
Fiberglass reinforced plastic is a strong, durable material that is used for garden decks, walkways and docks, although FRP decking is not suitable for structural applications. It requires minimal maintenance, can be used in both wet and dry areas, and is ideal for marine environments. FRP decking is manufactured in full-width planks for domestic decking, and in perforated sheets for decks that require drainage. FRP decking weighs less than half as much as an identically sized sheet of plywood.
Aluminum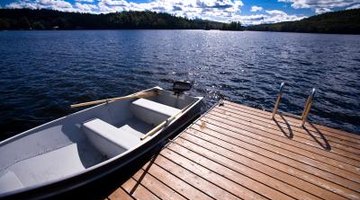 Aluminum is a strong, versatile material that is used for domestic decks, walkways and docks. Aluminum decking is not only lightweight but also durable and corrosion-resistant, and is suitable for marine environments. It is typically manufactured in full-width sections that interlock to provide a waterproof structure, meaning that the area underneath the deck can also be utilized if required. Aluminum decking has a textured non-slip surface, and planks typically weigh just over half as much as the equivalent sized plywood sheet.
Composite Structural Panels
Composite structural roof panels are not only a lightweight substitute for roof decking, they provide a weatherproof finish without the need for tiles or shingles. Tests performed in 2010 by ICC-ES Evaluation Service show that composite structural panels meet the Uniform Building Code requirements for load-bearing roof panels. Composite panels are laminated, with a polystyrene foam core sandwiched between two layers of aluminum. A 4-inch thick composite panel weighs 1.4 pounds per square foot, less than 1/2-inch thick plywood. Without tiles or shingles, the overall potential weight saving is considerable.
References
Resources
Writer Bio
Based in Reading, England, Mike Bailey has been writing since 2008. He covers topics such as business, travel and technology for numerous online publications. Bailey holds a Bachelor of Arts in engineering from the University of Cambridge.
Photo Credits
Thinkstock/Comstock/Getty Images
Jupiterimages/Comstock/Getty Images
Jupiterimages/Photos.com/Getty Images
More Articles