Different Types of Wood Substitutes
Wood substitutes are building products that are not graded as lumber. Composite substitutes contain wood fibers and a mixture of plastic or cement, glue and assorted other materials.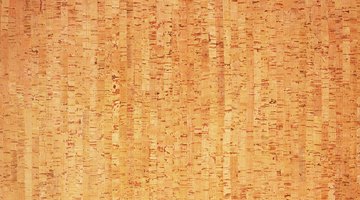 Structural substitutes, also known as engineered wood, consist of thin, overlapping strips of lumber laminated together under hydraulic pressure. Although the majority of wood substitutes contain wood byproducts, other substitutes contain no wood whatsoever.
Structural Strength
Laminated veneer lumber or LVL, is numerous pieces of wood glued together. Appearance-grade LVL is a common alternative to open beam structures and typically used for rafters, joists and beams. Standard-grade LVL is used for structural components such as studs or in conjunction with other wood substitutes to create I-beams. LVL wood substitutes can be formed into curves, making it adaptable to custom designs. Due to overlapping layers and thicknesses that give it strength, LVL engineered wood is a superior alternative to wood for certain structural applications. LVL is easy to cut and work with. It's available in long lengths without any significant defects. It accepts paint or stain just like any other wood product.
Particles are Popular
Wood substitutes for sheet materials are typically made from wood particles, glue and heat. Also known as particleboard, oriented-strand-board or hardboard, the degree of density is a direct result of particle size. Particleboard products are affordable and they can be used in any direction because there is no grain pattern. Particleboard ranges from a semi-soft material used for cabinets, shelves, floor overlay and miscellaneous applications, to a dense, hard material used in the production of cabinets, trim moldings or exterior siding. Oriented-strand-board is a type of particleboard made with large particles. It's generally unsuitable for cabinets and finish work due to a soft texture and rough finish, and is commonly used as a roofing, sheathing or flooring material.
Composites are Cool
Composites are similar to particleboard products but contain formulations of plastic and wood fibers. Also known as fiber-plastic lumber, common uses include decking, stair treads, window and door frames, exterior fascia, fencing and landscaping. Composite lumber is dimensionally straight, and not prone to warping, splitting or cracking. Its consistency exceeds that of most natural lumber products. It lacks the beauty of natural lumber but accepts paint and stain readily. It's easy to work with and typically requires less maintenance than natural wood. Another composite wood product integrates wood fibers with cement and sand. Fiber-cement composites are resistant to water, sunlight and insects. Due to a high level of stability, fiber-cement building products are used for siding and exterior trim applications that include fascia and soffit material, exterior trim, roofing and underlay for flooring.
Plastic is Perfect
Plastic formulations, including recycled plastic, contain no wood products. HDPE or high-density polyethylene is made from petroleum. It's commonly used as a trim around windows, doors or anywhere traditional moldings are used. Because of its moisture-resistant -- almost waterproof -- quality, HDPE is used in bathrooms, laundry rooms or anywhere high levels of moisture are present. HDPE moldings can be cut, nailed and applied just like typical wood moldings. Other variations of plastic molding include solid vinyl. Much like HDPE, vinyl molding is used in high-moisture applications, for exterior trim and in the landscaping industry for fencing and railings.
At the Core
Wood byproducts are also mixed with cork, hemp, bamboo, cardboard, nutshells, and other inert ingredients to produce sheets of MDF or medium-density-fiberboard. The dense sheet material is often laminated with wood veneer to produce a lifelike replication of hardwood plywood. This type of wood substitute is commonly used to build cabinets and furniture. Another type of high-density-fiberboard, MDL, has a core similar to MDF, but instead of wood veneer, it has a tough plastic material glued to both sides. MDL is widely used in the cabinet industry and is durable, water-resistant and low maintenance.
Stand Alone
Unlike composites that mix materials together, cork, which is tree bark but not wood, and bamboo, which is a grass, in their natural states have become popular wood substitutes. Cork is light, fire-resistant, provides insulation and when used as a flooring material, provides a comfortable surface to walk on. Bamboo is also used for flooring, but has other applications, such as furniture. Cork and bamboo grow fast. Environmentalists appreciate cork and bamboo for their sustainability.
References
Writer Bio
Specializing in hardwood furniture, trim carpentry, cabinets, home improvement and architectural millwork, Wade Shaddy has worked in homebuilding since 1972. Shaddy has also worked as a newspaper reporter and writer, and as a contributing writer for Bicycling Magazine. Shaddy began publishing in various magazines in 1992, and published a novel, "Dark Canyon," in 2008.
Photo Credits
DAJ/amana images/Getty Images
DAJ/amana images/Getty Images
More Articles