The Types of Wood to Use in Building a Shed
When building an outdoor shed out of wood, you can improve the building's lifespan, aesthetics and quality by selecting the most appropriate kinds of lumber available for outdoor building. Whereas many types of lumber require special treatments to endure weathering, certain woods are naturally resistant to the elements, to rot and to damage from wood-eating insects. If you're on a budget, you can also select more cost-effective woods, treating them as necessary.
Cedar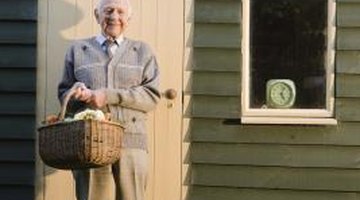 Cedar is a common material for outdoor building as it can naturally resist wood-eating insects and inclement weather. Cedar's insect-repelling properties are evident in the use of cedarwood oil. Cedarwood oil is an all-natural extract that is used as a pesticide, primarily against fleas, because of its non-toxic makeup and suitability within homes or on pets. Cedar lumber demonstrates the same properties, keeping out common pests such as termites. Cedar is also a very durable wood, adaptable to a range of applications. Cedar roofing shingles rely on the wood's exemplary resistance to rot and decay. Cedar framing relies on the wood's exemplary strength. Finally, cedar is a highly effective insulator, making it an excellent material for building in cold climates.
Redwood
Like cedar, redwood offers an outdoor building material that requires no special treatment to resist weathering. If you are interested in green, non-toxic construction, redwood, like cedar, makes an excellent alternative to the toxic properties of weather-proofing treatments. Most redwood used for lumber comes from the Coast redwood and not the Sierra redwood, which has far more brittle wood. Coast redwood lumber, on the other hand, has an additional benefit of being extremely slow to burn. This resistance to fire, which makes redwood a poor firewood, makes it an excellent material for building. Its texture is fairly tightly grained, with few knots. In addition, redwood resists splintering, is lightweight and is strong, making it easy to work with.
Plywood
Cedar and redwood make exceptional high-end building materials. However, if you're building your shed on a budget, you can make use of dimensional lumber treated with weather-proofing, combined with plywood. As a shed isn't generally intended for human occupation for more than a few hours at a time, you can use plywood, without layers of insulation, as a siding material. In addition to the low price, plywood offers an easy-to-assemble solution to building a shed. When using plywood for a pitched roof, leave it bare on the inside, with the large dimensional lumber supports exposed, for a rustic look that emulates traditional post-and-beam construction.
References
Resources
Writer Bio
Danielle Hill has been writing, editing and translating since 2005. She has contributed to "Globe Pequot" Barcelona travel guide, "Gulfshore Business Magazine," "Connecting Lines: New Poetry from Mexico" and "The Barcelona Review." She has trained in neuro-linguistic programming and holds a Bachelor of Arts in comparative literature and literary translation from Brown University.
Photo Credits
Jupiterimages/Polka Dot/Getty Images
More Articles