The Specifications of Steel ASTM A-27 Grade 60-30
American Society for Testing and Materials A-27 steel, grade 60-30, is a low- to medium-carbon steel with a simple chemistry. This steel, like many other simple steels, is used in a wide variety of industries due to the low cost, ease of manufacturing and generally wide availability, making it a perfect choice when specialized and exotic steels are not needed.
Chemistry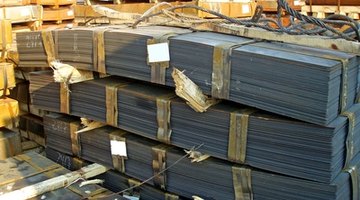 One of the most simple steels available in terms of chemistry, ASTM A-27 steel grade 60-30 has only five elements added to the iron foundation. The distribution of elements is: carbon (0.3 percent), manganese (0.60 percent), silicon (0.80 percent), phosphorous (less than 0.05 percent), and sulfur (less than 0.06 percent). The steel lacks molybdenum, chromium and nickel commonly found in modern steels.
Physical Properties
All grades of ASTM A-27, including grade 60-30, have a melting point of between 2,770 and 2,810 degrees Fahrenheit. A-27 is available in a number of grades depending on the tensile and yield strength required. For grade 60-30 it has a 60 kilogram per square inch tensile strength and a 30 ksi yield strength. Tensile strength is a measurement of the pressure at which the steel's cross section significantly contracts. Yield strength is a measurement at which the steel begins to deform. A-27 is also available in 65-35, 70-36 and 70-40 grades.
Applications
ASTM A-27 grade 60-30 is commonly used in a number of applications. It is used in milling machine components such as housings and plates. It is also found in the gears and cylinders of mills and crushing machines. A-27 is used in the water treatment industry in both large and small valves.
References
Resources
Writer Bio
Writer, photographer and world traveler James Croxon is a jack of all trades. He began writing in 1998 for the University of Michigan's "The Michigan Times." His work has appeared in the "Toronto Sun" and on defenselink.com and globalsecurity.org. Croxon has a bachelor's degree in English from the American Military University.
Photo Credits
steel sheets image by Mikhail Tischenko from Fotolia.com
More Articles