What Type of Plywood Is Used to Replace a Boat Floor?
Boat owners who want to replace a boat's floor or give the boat a new look have a few flooring options from which to choose. The most important thing to keep in mind when shopping for boat flooring plywood is its resistance to the moisture boats are so commonly exposed to. The most commonly used plywood for boat flooring is marine plywood. Another option is pressure treated plywood. There are also some preventative measures to take to protect and prolong plywood flooring.
Marine Plywood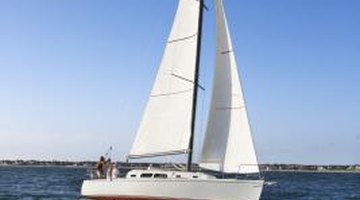 Marine plywood is commonly used to replace a rotting boat floor. This type of plywood is specially treated to resist rotting in high moisture environments. Marine plywood is premium quality plywood selected based on density and bending strength. It is available in different appearances, grades, thicknesses, lengths and widths.
Pressure Treated Plywood
Pressure treated plywood is also used to replace boat flooring. This type of plywood is treated to be more resistant to weather damage. It typically has a greenish color due to the chemicals used in the treating processes. Pressure treated plywood is treated with mold growth retardant and the treating process is not water soluble, which reduces water adsorption in the wood.
Marine Vinyl Flooring
Marine vinyl is another option for replacing a boat's floor. Marine vinyl flooring protects against sunlight, water, mildew and oil. Marine vinyl is also commonly used on boat seats. It is durable and easy to install.
Fiberglass as a Preventative Measure
A variety of boat floors are constructed using wood plywood with carpet on top. After years of being exposed to moisture, the wood naturally begins to rot and will need replacing. One preventative measure boat owners can take is to fiberglass their boat floors. This strong durable material is waterproof and will not rot.
References
Writer Bio
Chris Newton has worked as a professional writer since 2001. He spent two years writing software specifications then spent three years as a technical writer for Microsoft before turning to copywriting for software and e-commerce companies. He holds a Bachelor of Arts in English and creative writing from the University of Colorado.
Photo Credits
Thinkstock/Comstock/Getty Images
More Articles