Metal Deck Skirting Ideas
Durable and long lasting, metal is a practical material to use for the skirt of a deck. It is essential, however, that a type of metal that will not rust is used. Nonrustable types of metal include stainless steel, galvanized metal, and metal that has been coated. Choose a metal to use as skirting that will be an attractive addition to your home's landscape.
Metal Roofing Sheets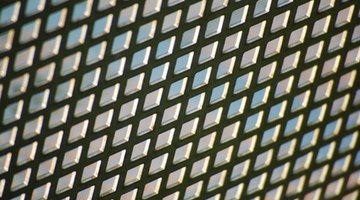 A simple, effective and affordable option for metal skirting is to use metal sheets that are ordinarily used in roofing. Metal roofing sheets are ridged and come in a wide variety of colors. Using sheet metal cutters, sections are easily cut to fit around your deck. They snap together at the seams, and are screwed to your deck posts and frame with roofing screws. Roofing screws have a rubber seal to prevent water penetration into the screw hole. To ensure airflow, use a drill with a sheet metal hole cutter bit to add a few ventilation holes.
Metal Mesh
Metal mesh is a unique choice for deck skirting. The open-weave diamond pattern provides a grate-like texture and allows for full airflow. Stiff metal mesh is common, but flexible metal mesh is also an option. Unlike stiff mesh, flexible mesh can be lifted if you need to access the space under the deck. In addition to a basic diamond pattern, decorative metal meshes are also available, and have more distinctive weaves, such as basket pattern weaves.
Cutouts
Tap into your artistic side by cutting shapes out of flat sheet metal for your skirting. A simple image, such as a tree, a sun, or the profile of an animal, is drawn on and cut out of cardboard to create a stencil. With a soapstone pencil, the stencil is traced onto metal skirt sections that have been cut to fit. Tool options for cutting shapes out of metal include a plasma cutter, sheet metal cutters, tin snips, a metal cutting handsaw, or an electric saw with a metal cutting blade.
References
Writer Bio
Mason Howard is an artist and writer in Minneapolis. Howard's work has been published in the "Creative Quarterly Journal of Art & Design" and "New American Paintings." He has also written for art exhibition catalogs and publications. Howard's recent writing includes covering popular culture, home improvement, cooking, health and fitness. He received his Master of Fine Arts from the University of Minnesota.
Photo Credits
hintergrund stahlgitter image by Otmar Smit from Fotolia.com
More Articles