What Are the Sizes of Folding Tables?
Folding tables come in rectangular, square and round shapes seating up to an average of 10 people. Rectangular tables are available in standard widths of 30 inches and lengths of 4, 6 and 8 feet. Square multipurpose tables typically measure 34 by 34 inches, while round versions come in three sizes, which are 3, 4 or 5 feet in diameter. Heights of folding tables are a standard 30 inches, although some designs allow flexibility with adjustable mechanisms.
Design Choices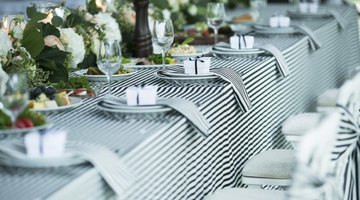 Rectangular folding tables are more common for banquets and business meetings, with a "seminar" version measuring only 18 inches wide. Square designs suffice for home card tables or extra dining space when entertaining guests. Round folding tables are more elegant for special events such as weddings, allowing an easier flow of communication between guests.
Materials
Legs and frames of folding tables are traditionally made of steel, while tops are melamine, seamless plywood, wood laminate, buffed vinyl or molded plastic. Higher-end tables have extra-thick 14-gauge steel leg construction, spring-loaded leg braces and high-impact plastic leg guides to protect flooring.
References
Resources
Writer Bio
Wendy K. Leigh is a travel writer and photojournalist from Seattle. She is the Editor of Islands America, a travel website for visiting islands within the United States. She also writes about home design, food and historical architecture. Leigh holds a Bachelor of Arts in English from the University of Washington.
Photo Credits
L-house/iStock/Getty Images
More Articles