Kinds of Deck Fittings
For boaters, deck fittings refer to pieces of hardware. These metal pieces are used to secure various items to the deck, including fishing rods, ropes and rigging, tarps and sails, railings, life preservers and steering wheels. Deck fittings come in many shapes and sizes, but they must be screwed in tightly to the deck of the vessel for sturdy transport.
Manufacturer Specs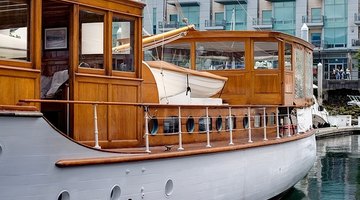 Online research into deck fittings reveals metal fittings that are manufactured by hardware companies. The manufacturer will typically provide a drawing of the deck fitting and exact measurements. Just as when you visit the hardware store, shopping online for a deck fitting according to the specific measurement of your marine vessel will help you choose the right deck fitting.
Cleats
Cleats are metal pieces of hardware with two screw holes, one on each end. To the naked eye, they resemble a handle on a kitchen drawer or an old-fashion steel filing cabinet. Examples are flagpole cleats, herreshoff cleats, blue water cleats and trimline cleats.
Chocks
Chocks are also metal fixtures with one hole at each end that are affixed to the boat decking. Examples are straight chocks, skene chocks and bow chocks.
Rod Holders
Another type of deck fitting is a rod holder. It is a metal cylinder with a flat attachment at one end that can be screwed onto the deck of the boat. Rod holders are ideal for holding poles such as fishing poles and rods and flags.
Rail Fittings
Rail fittings are also cylinders with at least one flat end attached to the metal cylinder. These pieces of metal hardware are secured to various parts of the top deck of the boat. The steel must be waterproof due to exposure. Metal rails inserted through a rail fitting at each end provide safe walkways for people moving around the vessel.
Stanchion Fittings
Stanchion fittings, like rail fittings, are secured to the bow, stern and utility railings to provide boaters with hand holds when moving about the marine vessel. An end stanchion is closed and secured to the boat on one end and includes an open cylinder on the other end for inserting the railing.
References
Writer Bio
Audra Bianca has been writing professionally since 2007, with her work covering a variety of subjects and appearing on various websites. Her favorite audiences to write for are small-business owners and job searchers. She holds a Bachelor of Arts in history and a Master of Public Administration from a Florida public university.
Photo Credits
Image by Flickr.com, courtesy of Mikul
More Articles