Problems With Aluminum Decking
Outdoor living is gaining popularity. Many homeowners spend considerable time and effort in sprucing up their decks, choosing between various materials, styles and designs. Aluminum decking is a favorite choice among homeowners for its ease of maintenance, strength and attractiveness.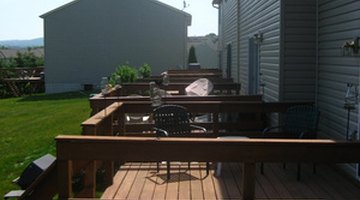 An aluminum deck is formed when interlocking planks of aluminum are fitted over a surface. No special tools are required for the process, and the deck installs easier and faster than a wood deck, according to Heidi Tyline King in the book "Design Ideas for Decks & Patios." Aluminum decking, despite its advantages, is associated with some problems and drawbacks.
Price
Aluminum decking is expensive. According to Black and Decker's "The Complete Guide to Building Decks," aluminum decks are typically more expensive than other alternatives, including wood, PVC vinyl and composite materials. The price of the aluminum decking depends on the size of the deck, professional installation charges, delivery charges (if any) and other hired services. As of September 2010, a single 6x2-foot aluminum plank costs between $200 and $300, while an 8x2-foot plank costs approximately $800. Support beams add to the price and cost between $60 and $100 per piece, according to Versa Deck.
Limited Availability and Appeal
Aluminum decking is not readily or easily available. According to Love Albrecht Howard in the book "So You Want to Be a Garden Designer," aluminum is a relative newcomer in the decking world, and many homeowners prefer alternative decking materials, including wood and PVC vinyl. Aluminum decking is also limited in color. The decking is typically available in white, gray and tan colors only. Some homeowners find the cold, industrial feel of aluminum a turnoff and opt for the warmer feel and hues of wood and composite wood decking materials. However, according to Joe Provey in the book "1001 Ideas for Decks," aluminum decking has the potential to gain a tremendous market in the future.
Professional Installation
Aluminum decking requires professional installation. Even products marketed for do-it-yourself homeowners are best installed professionally. Aluminum decking that is installed by novice homeowners is susceptible to load failure due to a bad or incorrectly formed joint.
References
"So You Want to Be a Gardener"; Love Albrecht Howard; 2010 (Pg 126)
"1001 Ideas for Decks"; Joe Provey; 2007 (Pg 117)
"The Complete Guide to Building Decks"; Black and Decker-Creative Publishing International; 2001 (Pg 96)
"Design Ideas for Decks & Patios"; Heidi Tyline King; 2008 (Pg 69)
Writer Bio
Natasha Gilani has been a writer since 2004, with work appearing in various online publications. She is also a member of the Canadian Writers Association. Gilani holds a Master of Business Administration in finance and an honors Bachelor of Science in information technology from the University of Peshawar, Pakistan.
Photo Credits
deck image by Albert Lozano from Fotolia.com
deck image by Albert Lozano from Fotolia.com
More Articles