1930s Furniture Styles
Known for gangsters, talkies and the Great Depression, the iconic 1930s also produced the instantly recognizable Art Deco style. Both sleek and bold, Art Deco combined graphic designs, repeating patterns and intricate inlays into its furniture. Many pieces from this era incorporated innovative materials and influences from regional and world cultures. Streamline Moderne, a design style that emerged late in the 1930s Art Deco movement, incorporated more industrial, utilitarian design elements.
Art Deco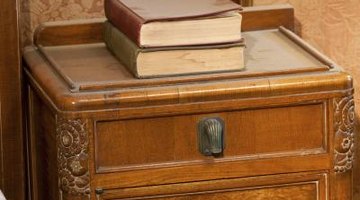 A term coined to describe the designs of the 1930s, "Art Deco" encompasses all design styles of the era. This includes most furniture styles, from the inlayed wood pieces designed by France's Emile-Jacques Ruhlmann, to the minimalist, Scandinavian-style pieces by Finnish designer Alvar Aalto. The most recognizable Art Deco furniture examples marry the organic, natural influences of the preceding Art Nouveau style and the stark, graphic lines of Cubism. Art Deco furniture often was mass produced, machine made in factories, and incorporated modern materials including laminated woods, molded plywood, and bent metals -- especially chrome and plastics such as bakelite. Upholstered furniture from the period features wide, mesa-flat or scrolled arms, symmetrical tufting and luxurious fabrics, such as a velvet or leather club chair. Art Deco's primary color palette includes bold golds, blacks, silvers, whites and reds; however, some regional variations utilized softer pastel colors.
Streamline Moderne
A style that developed into Mid-Century Modern, this modest, utilitarian design style first surfaced in the mid-1930s as Streamline or Art Moderne. Although most often associated with the architecture of the late '30s, this term also describes furniture styles prevalent at the end of the decade. This sub-movement of Art Deco was heavily influenced by the geometric and industrial lines of the Bauhaus school of design. The minimalist designs of Streamline Moderne feature geometric symmetry and natural materials, such as the molded plywood chairs and tubular designs by Marcel Breuer. Moderne furniture also was heavily influenced by the industrial developments in transportation, and featured elements reminiscent of the design details prevalent in the period's ships, trains, automobiles and airplanes.
Sunbursts, Steps and Waterfalls
Repeating patterns produced with heavy-lined, graphic symmetry are common design elements of 1930s furniture, and are found in the upholstery prints and decorative embellishments such as drawer pulls or table legs. These motifs often featured natural elements depicted with unnatural preciseness, such as the perfectly symmetrical sunburst. European Art Deco also incorporated traditional elements, such as a harp or laurel, depicted with the graphic Art Deco precision. A common feature of period dressers and cabinets, the waterfall design element refers to the cascading, or curved, front edges reminiscent of its namesake. Some waterfall furnishings also incorporate the step design detail, in which the curved detail is repeated, with progressively taller levels. The depiction of the Emerald City in the 1939 film "The Wizard of Oz" is a classic example of the step design element.
International Influences
While industrial design heavily influenced Art Deco furniture, cultural style elements inspired many pieces. The archaeological discoveries of the 1920s and '30s led to a style dubbed Egyptomania, which featured elements such as graphic lotus flowers, scarabs and palm branches. The Harlem Renaissance of the 1920s resulted in some Art Deco furniture incorporating African design elements. Ancient Mexico, specifically the Mayan culture, had an influence on furniture design, particularly those styles in the Southwest U.S. Some 1930s furniture designers found inspiration in East Asia, often incorporating the jade and sleek lacquer in Chinese and Japanese designs.
References
Art Deco 1910-1939; Charlotte Benton, Tim Benton and Ghislaine Wood
Resources
Writer Bio
A former art instructor, high school counselor and party planner, Christine Bartsch writes fashion, travel, interior design, education and entertainment content. Bartsch earned a Bachelor of Fine Arts in communications/psychology/fine arts from Wisconsin Lutheran College and a creative writing Master of Fine Arts from Spalding University. She's written scripts for film/television productions and worked as the senior writer at a video game company.
Photo Credits
mahroch/iStock/Getty Images
More Articles